PRIDE season celebrations across the District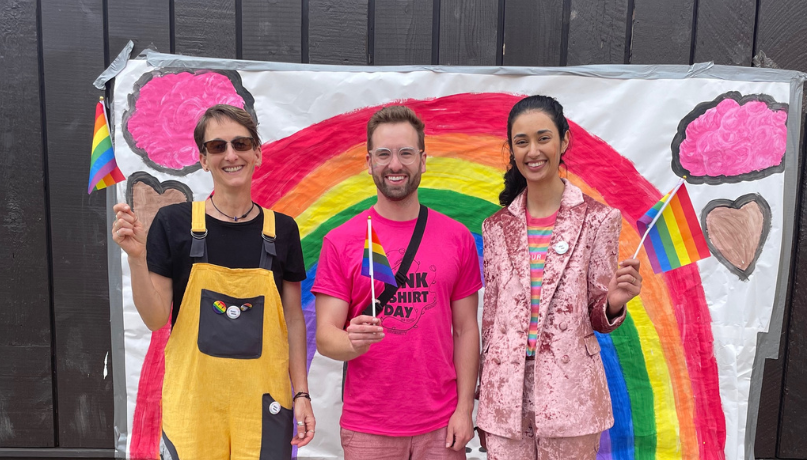 This is a guest post by Béene Savage, District Resource Teacher for Sexual Orientation and Gender Identity (SOGI). Béene's pronouns are they/them. In anticipation of Vancouver's Upcoming Pride parade, Béene shares reflections on last month's Pride month and their role as an educator in continuing the work of increasing equity, inclusion and a sense of belonging for all 2SLGBTQ+ students.
Last month we saw Pride celebrations all around the Vancouver School District. On June 9, a wonderful bunch of students celebrated the newly painted Pride Staircase at the District's Education Centre. Undeterred by the rainy weather, students danced and showed their pride while DJ O Show spun tunes on the front lawn. Flags were waved, stories and many smiles were shared. Seeing the main staircase painted in the colours of the Progress Pride flag adds a visible reminder to all of us of the work that is happening and that needs to continue happening, to increase equity, inclusion and belonging for all 2SLGBTQ+ students and staff in the District. The addition of the black, brown, blue, white and pink stripes to the flag are a recognition of the need from both within the 2SLGBTQ+ community, and from society as a whole, to make more space for and to centre the voices of 2SLGBTQ+ folks who are Indigenous, Black, people of colour and/or gender-diverse.
As the District Resource Teacher for Sexual Orientation and Gender Identity, and as an out and proud member of the 2SLGBTQ+ community, I had some very happy moments in June, not just at the staircase unveiling but also at other Pride celebrations around the District. There were special moments at each of these amazing events where I found myself a little choked up, emotionally connected to the beauty of students of all ages joining together to show their willingness to learn, grow, show respect for others and celebrate Pride. Some of these students are members of 2SLGBTQ+ communities, others are cisgender and heterosexual but are there to show support.
One of the fun events I attended was at Strathcona Elementary School where they hosted their very own mini Pride Parade in the neighbourhood! Students were decked out in homemade rainbow costumes, carrying rainbow dragons and other delights for folks on the sidewalk to enjoy as they cheered us on. One bystander held up a sign for the passing students to see, that simply read, "I am proud of you". And proud we are, of all the students who are out there celebrating their identities, supporting others who are part of 2SLGBTQ+ communities, and putting their most rainbowed, brilliant and caring selves on display to send a message to the world around them.
To truly increase visibility, understanding and ultimately a sense of belonging for folks who are part of the 2SLGBTQ+ community, we need to dig in and learn about the fight for 2SLGBTQ+ rights. Teaching about this in schools ensures that children understand that Pride season and the Pride parade are more than colourful, exuberant, happy and fun times. There is a depth of work and struggle to the stories that are told about the fight for rights for 2SLGBTQ+ folks over the years. The origins of the Pride parade may not be happy or fun, but there is a history that needs to be shared widely as we work towards more equitable and inclusive schools for all 2SLGBTQ+ students and staff.
Keep an eye out for the VSB School Bus Float at the Pride Parade on Sunday July, 31.