The legacy of Amanda White, District Knowledge Keeper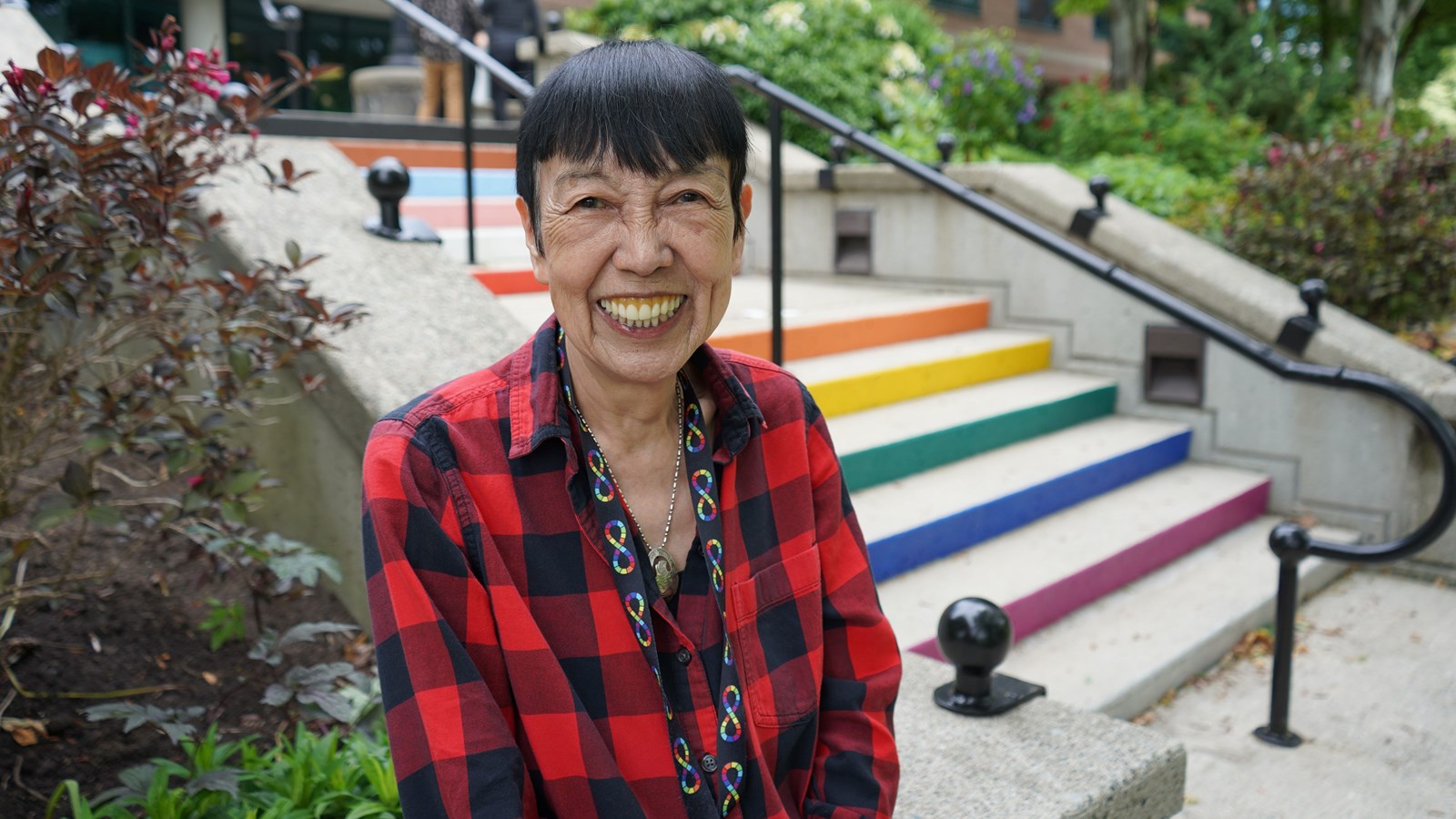 Amanda White, Knowledge Keeper of Indigenous Education retires this year after 26 years with the District, leaving a lasting legacy and an impact on countless students and colleagues. She has survived Residential school, Indian Day School, and the overt racism of Vancouver in the 60s. She has funneled past injustices into a drive to educate droves of students not just in Indigenous culture, but also Indigenous history.
Every summer when Amanda White came home to her village in Haida Gwaii from Residential School, her family would prepare her favourite meal: Deer meat with gravy, onions and potatoes. The smell of freshly baked bread would awaken her senses. "It was almost like they timed it when we got to the houses and the bread came out of the oven." she says. As is the case with many other cultures, food was one medium through which she maintained a strong connection with her people, culture and history.
At age six, White was sent to Residential School and later Indian Day School. On top of the mistreatment endured at the schools (which she does not like to discuss in detail), she was denied a proper academic education. "All they taught was Dick and Jane and Spot," she says, referencing characters from the bygone basal readers by William S. Gray. "We didn't have time to learn, because they were trying to teach us how to sew and be good Christians," says White.
She moved to North Vancouver to attend Carson Graham Secondary and complete grades 11 and 12. Her school in Haida Gwaii at the time only went up to grade 10. Attending public school for the first time in her life, she realized how insufficient her previous education had been. "They gave us all special needs designations because we didn't have academic training. We were way behind," she says.
District staff celebrate Amanda's retirement.
White recalls the racism in Vancouver back then in the late 60s as still being very overt. Up until 1969, the year she turned 18, she remembers signs on doors and in store fronts that said, "No dogs or Indians allowed." Some of her Haida classmates couldn't handle being away from home or the blatant discrimination they faced each day and went back to their village.
After studying hard to catch up in high school, she gained admission to the University of British Columbia, graduating with her Bachelor of Education at a time when not many Indigenous students attended. Although she had initial plans to become a teacher, she ended up working in the federal government for several years in a position she refers to as a "non-techie systems analyst." She laughs and says that today people are always surprised by this part of her history. "I loved that job because I got to travel all across Canada. But as I got higher up, the racism started to become more predominant," she says. White recalls several micro-aggressions and people referring to her as "the Indian princess." When her mother became ill, White decided to give up that career and move back to the West Coast.
Back in Vancouver, she got a job with Urban Native Youth, where she helped to run a pre-employment program. She says she liked her job, but when someone mentioned a position as a First Nations worker at the VSB, she was intrigued.
Amanda (centre) with her Indigenous Education team
The rest is, as they say, history. Today the District's Indigenous Education Department's influence is evident with the Reconciliation and Welcome Poles that stand in front of the District's Education Centre and to the acknowledgement that comes before every public and official meeting. Students throughout the District today learn about Indigenous histories and cultures through the making and playing of drums, cultural ceremony and day trips to learn the history of Indigenous Peoples.
But things were not always this way. When White began working at Tillicum Annex as a First Nations support worker, she says she was only allowed to take the Indigenous children along with her. "I could not teach in the classroom. I could only teach and share the culture with the First Nations kids," recalls White. She credits the students themselves for inadvertently advancing the Indigenous curriculum. Their curiosity was what ultimately opened doors for her. The kindergartens who were left behind started speaking out and asking White if they could join her.
Amanda sitting in front of tile art she created with a grade 2 class at Tillicum Annex. The design is based on the school's logo.
Teachers finally told White that she should lead the whole classroom. She was then encouraged by Grade 4 teacher Leah Dosdall to share with students her experiences at Residential Schools.
"Leah said, 'why don't we really start talking about real things? You've been to Residential School, why don't we start talking about that with the kids?' I said, 'I'm not going to share the bad stuff,'" White recalls. "She goes, 'no, I want them to be aware, this is their history.'"
She credits her Tillicum colleagues with helping her to heal from her difficult past. With the space to tell her story, White gave her past experiences a purpose. "They put me into the classroom. Because of what they did and how they were doing it, they helped me to heal myself in many ways," says White. She also credits them for helping her to expand the Indigenous Education program.
Sharing First Nations history is something that White is deeply invested in. At Tillicum, and in her subsequent role as District Knowledge Keeper, she shared with students the oral history not found in books.
White shares that once she started sharing her stories, "The First Nations kids would come up to me and say, 'My grandma went through that.' So they were aware. That's how we started talking about the issues of First Nations."
"To me, history is the most important. There's a big difference between culture and history. Now people are finally acknowledging the need to teach the histories of First Nations in our classrooms," says White. "I don't want students to just learn about First Nations, I want them to know the history of all people of colour. I want to them to see who built this country."
The new provincial graduation requirement including Indigenous Education credits set to begin next year is something White is very happy to see.
"People think we haven't gotten far, but for me, we've come a long way. Now in the classrooms people are telling our stories. The children are listening. The children are right. They see the true history and say it's not right," says White. "To me, we're on the right path and I'm thankful."
Perhaps the most fitting words describing her work and her gifts to students and staff throughout the District for the past two plus decades were shared by some of her colleagues in the Indigenous Education department. She is a trailblazer and as an Indigenous woman in the District, made a path for many. She is admired and respected for the way she walks through this world and is fondly called an amazing teacher, Indigenous role model and Haida Woman Warrior. The legacy she leaves behind is just the latest of the many gifts and teachings she has shared.