School History
Might you have interesting historical photos of the Norquay area or interesting stories of life and times in this area in the early or mid-century? We would love to include local history in this Our History section of Norquay's website. 
John Norquay Elementary School was officially opened in August 1913 to meet the increasing demands of the ever-growing influx of people into South Vancouver.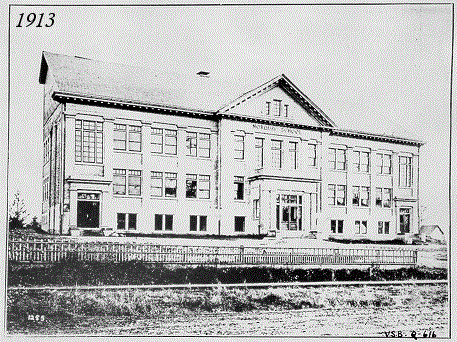 History of Renfrew-Collingwood

In 1861, Colonel Richard Moody made the first modern attempt to break through the thick forests that covered the areas now known as Renfrew–Collingwood, building a military trail on the route of an ancient First Nations trail that led from New Westminster to English Bay. He then claimed 1.14 km² of land in the heart of the area, where the Collingwood commercial area now exists. The first settler in the area was George Wales, who moved to the area in 1878 and settled on an area bordered by Wales Street, Kingsway and East 45th Avenue.
By 1891, the interurban railway tram running along Vanness Avenue had opened the area to new residents, and a thriving community started near the junction of Vanness and Joyce Street. The name Collingwood was likely selected by some former residents of Collingwood, Ontario. In 1913, a small town was growing quickly along Joyce Street. To the north, the Renfrew district - formerly the southern part of an area known as the Hastings townsite - began to see population arrive in the 1920s.
Over the years, the two areas have grown together, with extensive commercial development along Kingsway, Grandview Highway and Boundary Road and growing numbers of condominiums and multi-family residential developments sprouting up around the area. Construction of the two SkyTrain rapid transit lines through the area (the original Expo Line in 1986 and the more recent Millennium Line to the north) has brought even more interest in development.[2][3]
The area had its beginnings and owes its name to a station on the now-defunct Central Park Line of the British Columbia Electric Railway,[4] the route of which is now paralleled by the Skytrain line, the Joyce station of which is located on Joyce Avenue a few blocks north of Kingsway.
Graham Bruce, Grenfell, Carleton, Norquay, Nootka, and Renfrew are the public elementary schools in Renfrew–Collingwood; Windermere, and Vancouver Technical are its public high schools.