Library / Learning Commons
Welcome to the Nootka School Library!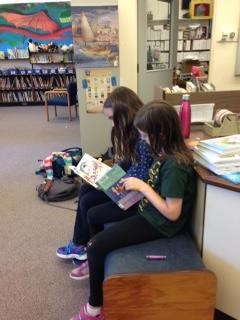 Our collection contains a wide variety of wonderful books for readers of all levels, to which new titles are always being added.  If you have a particular book in mind, or are looking for a book recommendation, our teacher librarian, Ms.Skipper, would love to help you find a book that is just right for you.
Checking your library ACCOUNT 
We encourage all students and parents/guardians of younger students to check their school library accounts on a regular basis. This helps students keep track of their library books.

By checking your account, you can find out:
Which and how many books you have checked out.
When your books are due.
If you have lost or overdue books.
In addition, you can create and save lists of books that interest you.
To access your account, follow these steps:
Go to https://library.vsb.bc.ca.
Find Nootka School and click on it.
Click on the "Login" button.
Enter your VSB student number and password.  If you are having difficulty with your password please visit https://studentpass.vsb.bc.ca/.  (Student PEN # is required).
Once you're signed in, you can search our catalogue using keyword, title, author, series, etc.
databases, ebooks and videos 
The Vancouver School District provides all students with access to a digital library filled with databases, ebooks and video services. (A database is an organized collection of information and an ebook is an electronic book).

Students can find information to do research and complete assignments, read and interact with ebooks and watch educational videos.