Carleton Cunningham eNews November 6th, 2022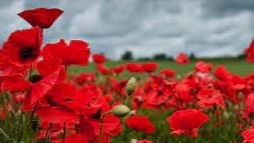 Early Dismissal on Tuesday, November 8th and Wednesday, November 9th due to Communicating Student Learning Conferences. Please see below for information on how to book your conference with your child's teacher
School is closed Friday, November 11th in observation of Remembrance Day
Our school will be holding a Remembrance Day ceremony at 11am on November 10th. This is an assembly of self-reflection and an opportunity to share a moment of peace. If you would like to join us for the assembly, we will have a small number of chairs at the back of the gym for guests. We will be observing the traditional minute of silence and will be reminding the students this is not a performance assembly and respectfully ask that no applause be given.
CSL Booking Information
Below is a link to book a conference with your child's teacher. All conferences are in-person at the school. Please follow the simple instructions to book a time. If you do not see your child's teacher on the list, they will have communicated with you a different system for booking.
1. Click on the link Carleton Cunningham CSL Conference Booking
2. Click on your child's teacher's name
3. Scroll to the bottom of the screen to see the calendar and staff drop down
4. Click the drop down and select your teacher's name
5. Use the calendar on the left to select a date (the days available will be in bold)
6. Select a time
7. Add your details - Name, email, and child's name are mandatory fields
8. Click "Book" - you will receive a confirmation email
9. You are done! Come to the conference at the school at your chosen time
If you have any questions, or trouble booking please do not hesitate to contact me.
Operation Warm
We have the amazing opportunity to be receiving winter jackets for all student's courtesy of Operation Warm. Jackets will be given to students at the end of November either the 29th or 30th. More information to come soon.
Outside Clothing
As the weather gets colder and wetter, please make sure you child has appropriate outdoor clothing and a change of clothes if they get wet. This is very important as we play outside regardless of weather. If you need help with appropriate outdoor clothing please let me know.
Have a wonderful week.
Adrienne Stewardson
Principal
Please see below for important information from PAC
🍎 LAST CHANCE for APPLES 🍎
Order by end of day Saturday November 12th if you would like orchard fresh ambrosia or honeycrisp apples delivered to the school.
https://fundraising.sunokafruit.com/s/gtcunninghampac
❄ Winter Bazaar ❄
Please contact the PAC at cunninghampac@gmail.com if you would like to arrange to sell items at our Winter Bazaar on November 23rd.
If you, or someone you know (doesn't need to have a child at the school), would like to sell items at our Bazaar please contact us by Tuesday November 8th (deadline extended).
Showcasing homemade or handcrafted items such as: candles, clothing, arts & crafts, baked goods, knitted items, etc.
Or selling household items such as books, toys, clothes, shoes, games, etc...