Multicultural Liaison Workers
Multicultural Liaison Workers (MCLWS) are cultural and linguistic resource staff of the Vancouver Board of Education, under the ELL support services of the Newcomer Welcome Centre.
They are available to support students, families, and school personnel by facilitating communication despite linguistic or cultural differences.
Please visit the Multicultural Liaison Workers section at VSB's NWC website for more information.
ENGAGED IMMIGRANT YOUTH PROGRAM
Engaged Immigrant Youth Program
The Engaged Immigrant Youth Program (EIYP) is dedicated to working with school communities to support youth to stay in school and improve their chances of pursuing meaningful educational and employment opportunities.
What do we do?
Develop opportunities and safe space for youth to participate in activities during and after school
Support youth in their settlement process in promoting their engagement in school and community in group or one-on-one settings
Support youth in cultivating confidence and developing personal and leadership skills to achieve their educational and employment goals
Support youth in developing high school transition plan
EIYP at John Oliver:
At John Oliver, students take the lead in what activities and workshops they want to see in the after-school program. Last school year, students participated in variety of field trips and workshops such as the trip to the Dance Centre, learning about Human Rights, practicing English, and so much more. This school year, we are aiming to support students in developing their capacity for leadership and defining their own successes.
How to Join: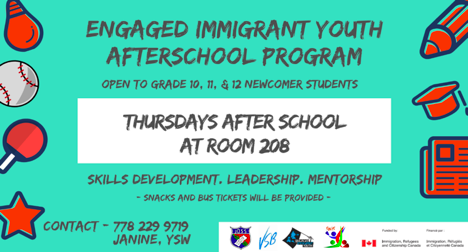 For more information contact:
Janine Binanitan

Youth Settlement Worker

SWIS – Engaged Immigrant Youth Program

Tel: 778-229-9719

Email: jbinanitan@vsb.bc.ca

J-Anne Hope

Filipino Settlement Worker

SWIS Program

Tel: 778-772-2748

Email: jnhope@vsb.bc.ca

Elisabeth Chan

SWIS Settlement Worker

SWIS Program

Tel: 778-227-5452

Email: echan@vsb.bc.ca