Listening and learning on National Indigenous Peoples Day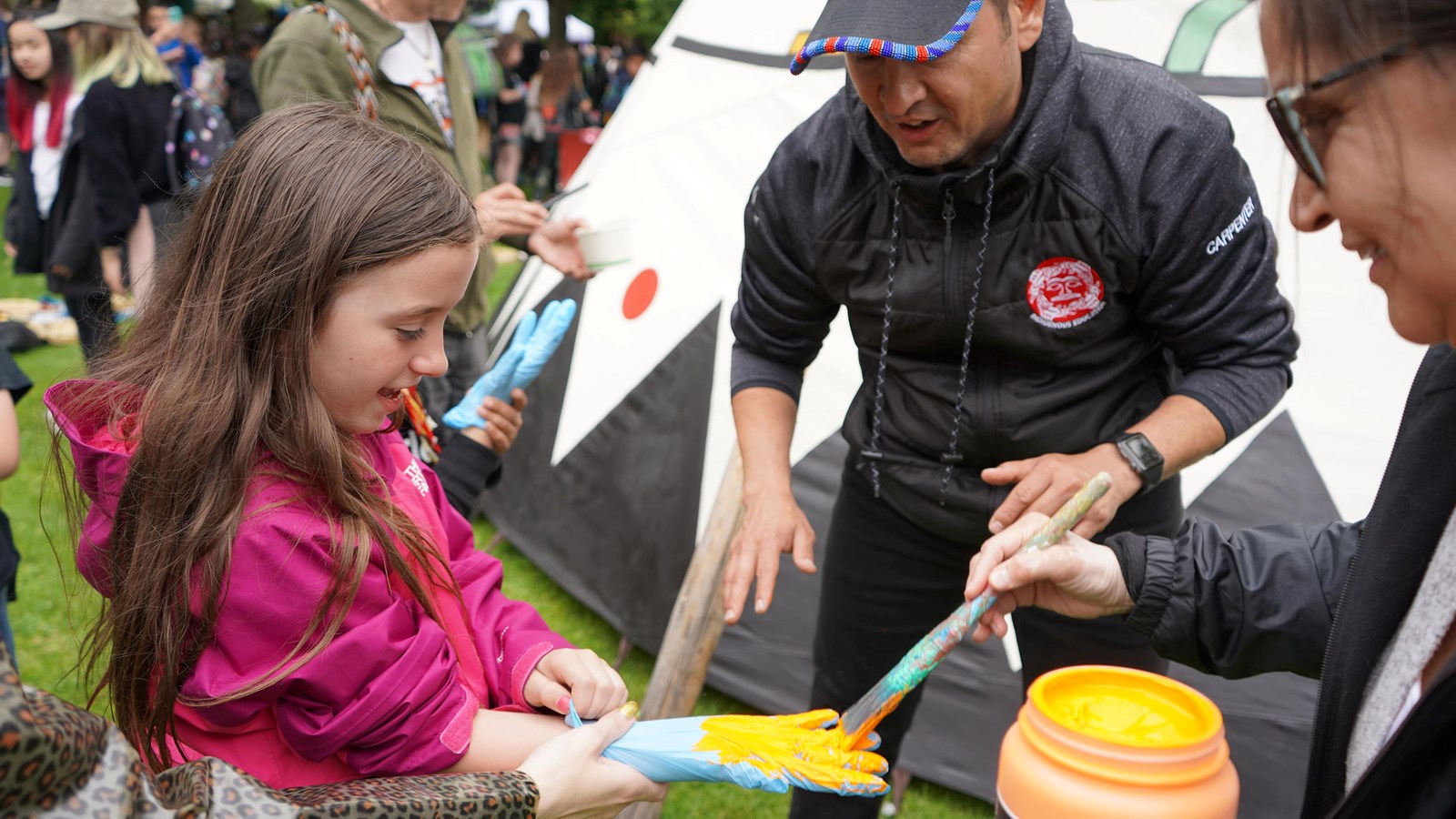 Yesterday, more than 700 staff, community members and students from 28 elementary and secondary schools gathered outside the Vancouver School District's Education Centre to listen, learn and honour rich traditions and histories on National Indigenous Peoples Day.
The day was a culmination of work done this past year by the District's Indigenous Education Department in the facilitation of about 200 student-made drums and rattles. Since 2014, more than 3,000 drums have been made with students and staff in the District. These drums were awakened in a traditional ceremony led by vice principal of Indigenous Education, Davita Marsden.
"It's important to acknowledge Indigenous people and what they do even if we are not part of the Indigenous community," said Grade 6 Southlands Elementary student Kaera Thrift. "It was really cool to see the drum awakening to see what they traditionally do. I love that we were able to put our hands on the tipi to show that we care."
As part of the honouring and learning, those gathered watched the Drums Across North and South America video compiled by District staff, participated in a smudging ceremony, and learned Slahal, a guessing and conflict resolution game commonly commonly played by Coast Salish People and other Nations across North America.
Students and staff also took part in hand painting on two 30-foot tipis. The top two-thirds were painted by local Indigenous artists. The hand painting on the lower third of the tipis honours the children who were taken from their families and sent to residential schools.
"At the doorway it's the dad and the mom that greet you. Dad is in the blue and mom is in the green," says Saskatchewan Plains Cree artist Jerry Whitehead. "It represents and honours my own family."
The other tipi was painted by Sharifah Marsden, an Anishinaabe and Ojibwe artist from the Mississaugas of Scugog Island First Nation in Ontario. "The theme is reconciliation," says Marsden of her tipi. "The purple flower represents the 'forget me not' flower to remember the children who didn't make it home from residential school, and survivors. Two orange flowers are a sentiment of love. The strawberry flower represents love and joy in our culture."
According to District principal of Indigenous Education, Chas Dejarlais, it is by making space to listen and learn that we can honour the land that we are on. "It is our responsibility to be good relatives to the land, language and cultural practices of Indigenous peoples. On National Indigenous Peoples Day, we intentionally made space to receive Indigenous knowledge and praxis."
Approximately 2,200 students enrolled in the District self-identify as Indigenous, representing 634 bands and more than 50 Nations.
Learn more about Indigenous education at the District.