IB MYP
IB Middle Years Programme

Lord Roberts Elementary School, Elsie Roy Elementary and King George Secondary are a Family of Schools within the Vancouver School Board offering the International Baccalaureate Middle Years Programme (IB MYP) for all grade 6 to 10 students
The International Baccalaureate Middle Years Programme is a five-year programme designed for students in grades 6 to 10.  The aim of the IB MYP is to stimulate students' curiosity and to help them relate the content learned in the classroom to their local and international communities.  The programme emphasizes the development of the whole child through an inquiry based approach to teaching.  All students in grades 6 and 7 are part of the MYP programme.
IB Mission Statement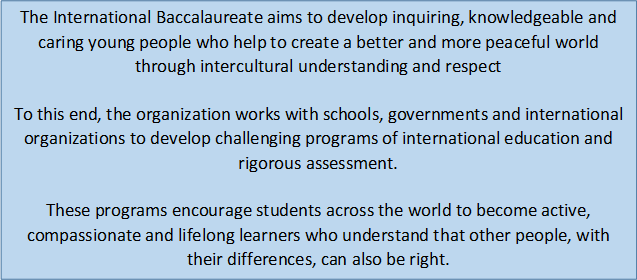 Our School Mission Statement
To honour and educate kind, inquiring, global citizens who are leaders in creating a harmonious and sustainable world. We do this with integrity and in the spirit of deep respect, curiosity and joy. 


What is IB education?
https://www.youtube.com/watch?v=9LuuJa3t-m8

What is MYP PROGRAMME?