Approaches to Learning
An emphasis on Approaches to Learning (ATL) skills means that teachers are explicitly teaching students the skills needed to learn effectively.The Middle Years
Programme supports the development of lifelong learners. The ATL categories focus on specific skills students need to develop in order to "learn how to learn". The aim of ATL is to produce self-regulated learners who have been explicitly taught the skills of effective thinking and learning, from information processing to managing emotions. These skills help students become successful learners both independently and when working with others. These skills are taught throughout the various subject areas.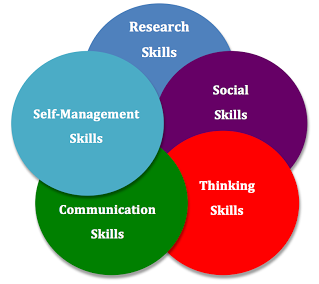 The IB programme has five broad skill organizers for ATL: communication skills; research skills; self-management skills; social skills; and thinking skills.  A minimum of 1 ATL will be reported for each subject on each report card.
ATL Skill Category
MYP ATL Clusters
Communication
Communication
Social
Collaboration
Self-Management
Organization
Affective
Reflection
Research
Information Literacy
Media Literacy
Thinking
Critical Thinking
Creative Thinking
Transfer
Students will be assessed on a few skills after summative assignments.  Students will also have an opportunity for self-assessment throughout the year.  At the end of the year students will complete a self-assessment and uploading it to their Locker in MyEd BC.  The links below are the rubrics that students will use for self-assessment.