School History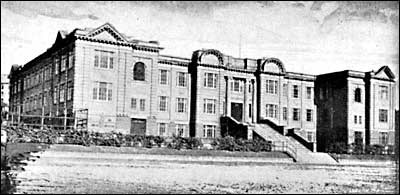 Britannia, the second high school to be constructed in the city of Vancouver is now the oldest remaining secondary school. The first classes were held in the Admiral Seymour building in September, 1908. The school moved to the then partially completed Britannia building in 1910. The school colours of red, green, and white and the school motto "Per Vias Rectas", which means 'straight forward', were adopted at this time.
In September, 1955, the gymnasium and cafeteria were added to the 'old building'. It was also at this time that Grades 8 and 9 students were first admitted for enrollment.
During the 1966-67 school year, a new wing was constructed providing additional Science, Industrial Education, Home Economics, and Business Education classrooms.
The year 1972 was a most important year in our history. It was during this year that Britannia Secondary became Britannia Elementary-Secondary School . The elementary section opened its doors on January 9, 1975 to 16 staff and 370 students making a combined student enrollment of approximately 1800. This was also the year of incorporation of the Britannia Community Services Center Society and the year that Britannia became a Community School.
Britannia differs from other Vancouver schools by having both a K-12 enrollment and being a community school. These features present many opportunities for both staff and students.