School History
The school was originally opened in 1927 as a Kindergarten to Grade 12 school. In 1954, University Hill Secondary School was built and the building was converted to an elementary (Kindergarten to Grade 7) school.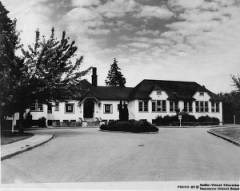 Please click on the picture of the original school building to see the U-Hill Elementary Digital Collection. A special thanks to Atulya Bhardwaj and Mathew Vis-Dunbar for digitizing these images in 2014.
In 1997, the current building opened. Since that time, the University Hill community has gone through some changes and grown. University Hill Elementary has been operating at over capacity for the past decade or so until 2014. In January 2013, the secondary school moved to the former National Research Council Building on 16th and Wesbrook and the old site of University Hill Secondary converted to become Norma Rose Point Elementary, an elementary (K to 5) and middle (6 -8) school. Norma Rose Point opened in the Fall of 2014.   At that time, University Hill Elementary School became a Kindergarten to Grade 5 school.

In the fall of 2019, University Hill will become a Kindergarten to Grade 6 school with plans of becoming Kindergarten to Grade 7 in the fall of 2020.