Meet Sam Tsai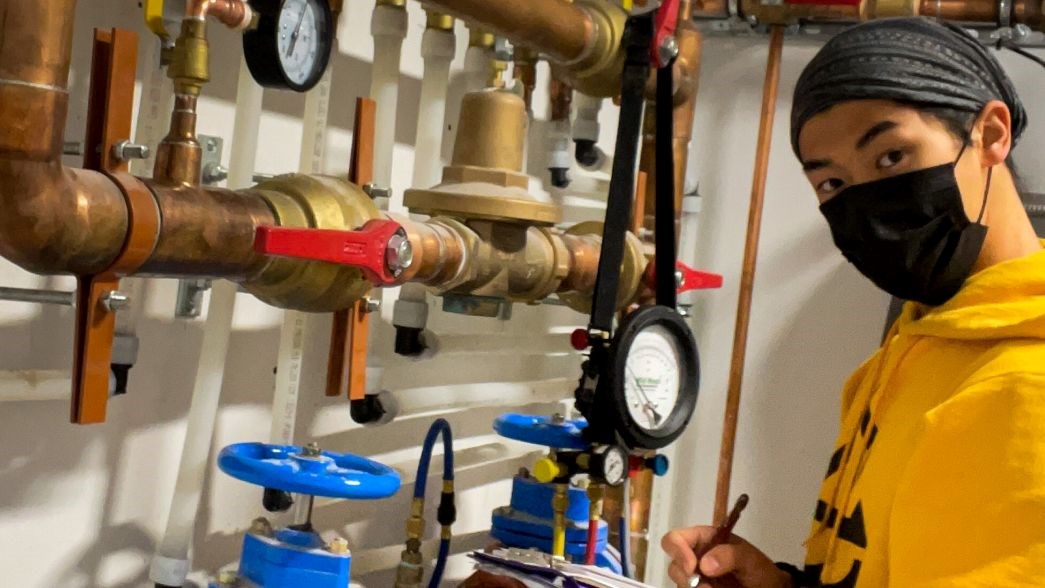 Meet Sam Tsai: Certified Red Seal Plumber, Gasfitter Apprentice, and Avid Marathon Runner
Meet Sam Tsai, a certified Red Seal plumber, gasfitter apprentice, and avid marathon runner who loves the benefits that come with a skilled trades career. "The everyday troubleshooting, problem-solving, and ever alternating jobs made the 5 years it took to get certified at age 20 feel like just a couple amazing summers."
Sam first heard about the skilled trades from an individual he now recognizes as his mentor and sponsor, nicknamed "Boss Man". From there, he fell in love with the specialized side of plumbing and gasfitting.
"The everyday troubleshooting, problem-solving, and ever alternating jobs made the 5 years it took to get certified at age 20 feel like just a couple of amazing summers. I love being able to serve each customer in a unique way catered to their needs as I inspect and repair issues daily."
As a participant of the Youth Work in Trades program, Sam had a great head start in completing his apprenticeship and obtaining his Red Seal at a young age.
The problem-solving part of his job is what he loves most about his career in the skilled trades. Sam also recognizes the importance of building good relationships and enjoys explaining exactly what and why things need to be done to customers during the process. "I love watching and learning from other trades professionals, and most of all I simply love to serve."
Sam is most proud of his relationships: his family who raised him, his community who mentored him, the teachers who instructed him, and the friends who supported him along the way. He says that he would not be where he was today as a Plumber and Gasfitter apprentice at age 20 without the support of all those around him.
In 10 years, Sam sees himself owning his own company, embodying the core values and providing top-tier customer service skills that he was taught as a young apprentice. He strives to be a role model that treats others well.
In his spare time, Sam enjoys cooking for friends and playing volleyball with his brothers while chatting late into the night. He also loves to run and trains for marathons during the hours before and after work.
When asked what advice he would give to those who are considering a career in the trades, he encourages folks to just try it out.
"Even if you don't decide to pursue that trade two years down the road, it still looks great on a resume and the price of trade school will never be beaten. The skilled trades are always a valuable career, and it never hurts to make yourself valuable as an employee."