Equity statement receives unanimous support from the Board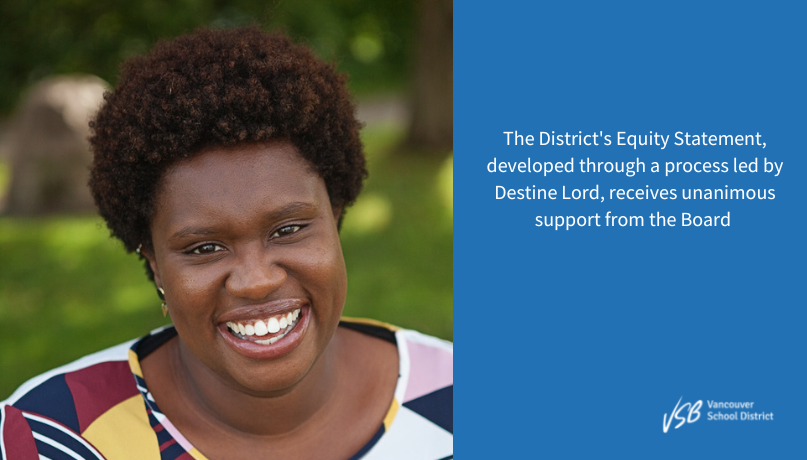 On June 27, 2022, at the final Board meeting of the year, an equity statement, drafted by stakeholders and Indigenous rights holders throughout the District, received unanimous support from the Vancouver School Board.
Equity statements define an organization's commitment to eliminating barriers to success and outline a plan to remove barriers faced by equity-seeking groups. These statements, frameworks or action plans are being increasingly adopted by public organizations, including many school districts throughout Canada.
After thorough consultation with District staff, students, stakeholders, and rightsholders, the VSB equity statement is:
The Vancouver School Board – a large, urban school district located on the unceded, traditional lands of the xʷməθkʷəy̓əm (Musqueam), Sḵwx̱wú7mesh (Squamish), and səlilwətaɬ (Tsleil-Waututh) Nations – respects and supports Indigenous ways of knowing and learning. The VSB will create an equitable learning environment where every child can experience a deep sense of belonging and is free to pursue pathways of learning in ways that are authentic to themselves. The VSB will achieve this by:
• having students see themselves and their communities in the curriculum and in the staff throughout the District;
• prioritizing student needs by making informed decisions and engaging in open communication with rightsholders and stakeholders; and
• actively fighting systems of oppression through relationship building, ongoing communication and transparency.
The VSB commitment to equity will be informed by humility and accountability.
How the equity statement was developed
The equity statement development process was led by Destine Lord, an Anti-racist and Inclusion consultant over the course of two workshops. The Equity statement was drafted through a collaborative engagement process with student council representatives, members of the 2SLGBTQ+ community, xʷməθkʷəy̓əm (Musqueam), Sḵwxwú7mesh (Squamish) & səlilwətaɬ (Tsleil-Waututh) Nations, Métis Nation British Columbia, Urban Indigenous Peoples, members of the Black and People of colour communities, as well as people of various faith traditions and places of origin. We thank each and every person for sharing their lived experiences, aspirations and perspectives.
Lord opened the first workshop with a simple question: "What does equity mean to you?"
In small groups, participants shared musings, weaving in thoughts and lived experiences tied to the word equity. One Indigenous parent talked about the effects of intergenerational trauma that gave her daughter an unequal footing, one principal spoke of growing up having a feeling of otherness as a person of colour, another participant spoke of feeling like a hidden minority — on the outside fitting in, on the inside, constantly feeling like an outsider.
Lord gathered the handwritten notes from each of the groups into what she reverently refers to as the "folder of knowledge" — sentiments captured in this folder would ultimately be distilled into the final equity statement that was adopted by the Board.
Having spent 15 years as a Federal Public servant in Ottawa, 10 of which were served in the department of Indigenous and Northern Affairs, Lord understands government bodies but also has an intimate understanding of what it's like to come from an equity deserving group.
As an external consultant from the opposite side of the country, she leveraged her position as a neutral party. "In any process, people just want to be heard," says Lord. "It was important to me that I tried to make the process as flexible as possible. To me, the process was just as important, if not more important, than the outcome."
When reviewing notes in the "folder of knowledge", Lord noticed some reoccurring themes. Participants defined equity in similar ways with words such as "inclusion" and phrases such as "a sense of belonging". Overall, participants expressed a desire that the statement should be reflective of the community it was representing. "It was interesting, given the diversity in the room that very similar themes were identified," she says.
From the notes and some research on best practice for organizational equity statements, Lord came up with four draft equity statements and presented them to the group at the start of the second workshop. Participants then voted and eliminated one. After discussing and critiquing the remaining three statements, participants voted again to select the statement that was ultimately recommended and approved by the Board.
Lord is pleased with the engagement with stakeholders and rights holders. "It was a comprehensive and inclusive process. There was a plenty of discussion but little debate or arguing," she says. "A lot of organizations have statements about diversity, equity and inclusion. The good ones demonstrate what equity means by describing how it will show up in their organization. I hope this proves to stakeholders and rights holders that they can trust the District to run a process where they are seen and heard."
Next steps
As for what's next, Lord hopes that this equity statement will serve as a North star, guiding both programs and policy. "The goals of this statement are ultimately about improving the lives of students and supporting educators to make classrooms more inclusive. I hope this statement is the first step in a march towards this vision of equity." Paired with the new Education Plan, the District's new equity statement will be a powerful tool to guide and inform decisions to 2026 and beyond.