Assessment and Reporting
Almost all of our courses this year are semester courses, and they will receive an interim report card (with work habit and teacher comment) and two formal report cards (containing a work habit, a mark, and a teacher comment).
| | | | | | |
| --- | --- | --- | --- | --- | --- |
| Semester Reporting Schedule | Start/End Date | Interim Report Date | Mid-Year Reports Date | Parent Teacher Interviews | Final Reports Date |
| Semester 1 | Sep 6 - Jan 31 | Oct 13 | Nov 24 | Dec 7 | Feb 8 |
| Semester 2 | Feb 5 - Jun 27 | Mar 7 | Apr 25 | May 8 | Jun 27 |
Linear (Full-Year) courses will have
an interim on November 23 with work habit, teacher comment, and percent grade for all courses taken by grade 12 students.
A mid-year formal report card on February 8.
A final report card on June 27.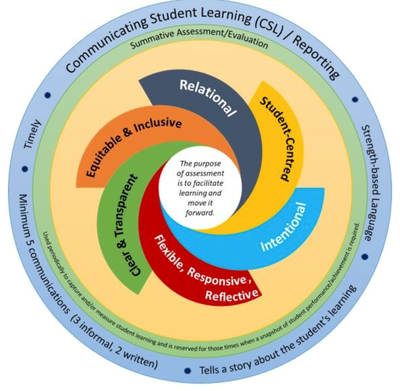 Grading and Assessment Standards
All Grade 8 and 9 courses will be assessed with VSB performance standard indicators (proficiency scale) EMERGING-DEVELOPING-PROFICIENT-EXTENDING
Grade 10-12 courses will be assessed using percentages
Core Competencies (BC Ministry of Education) - STUDENT ASSESSMENTS
The core competencies along with literacy and numeracy foundations and essential content and concepts are at the centre of the redesign of curriculum and assessment. Core competencies are sets of intellectual, personal, and social and emotional proficiencies that all students need to develop in order to engage in deep learning and life-long learning. Through provincial consultation, three core competencies were identified.
Communication -The communication competency encompasses the set of abilities that students use to impart and exchange information, experiences and ideas, to explore the world around them, and to understand and effectively engage in the use of digital media.
Thinking - The thinking competency encompasses the knowledge, skills and processes we associate with intellectual development. It is through their competency as thinkers that students take subject-specific concepts and content and transform them into a new understanding. Thinking competence includes specific thinking skills as well as habits of mind, and metacognitive awareness.
Personal and Social - Personal and social competency is the set of abilities that relate to students' identity in the world, both as individuals and as members of their community and society. Personal and social competency encompasses the abilities students need to thrive as individuals, to understand and care about themselves and others, and to find and achieve their purposes in the world.
Core competencies are evident in every area of learning; however, they manifest themselves uniquely in each discipline. In the current drafts of the redesigned curricula, competencies are embedded and evident within the learning standards. Competencies come into play when students are engaged in "doing" in any area of learning. This includes activities where students use thinking, collaboration, and communication to solve problems, address issues, or make decisions. The ultimate goal is for learners to employ the core competencies every day in school and in life, and for the core competencies to be an integral part of the learning in all curriculum areas.
Importance of self-assessment
Students come to the classroom with experiences and knowledge related to Core Competencies. Self-assessment will allow them to develop the ability to describe themselves as unique individuals in relation to the Core Competencies. They will set goals and gain ownership of their learning when they have the opportunity to self-assess and describe who they are as learners, document their progress, and share their accomplishments in an ongoing and holistic manner.
Research on assessment emphasizes the importance of students developing reflective language and metacognition (i.e., the ability to think about thinking) in order to engage in effective self-assessment. It is important that, over time, students:
gain the ability to assess their own strengths
create realistic and achievable goals
construct a clear plan to reach their goals
provide examples and evidence of their learning
revisit previous documentations of self-assessment, where applicable, to monitor their growth