Newcomer students and families visit xʷməθkʷəy̓əm (Musqueam) to celebrate National Indigenous History Month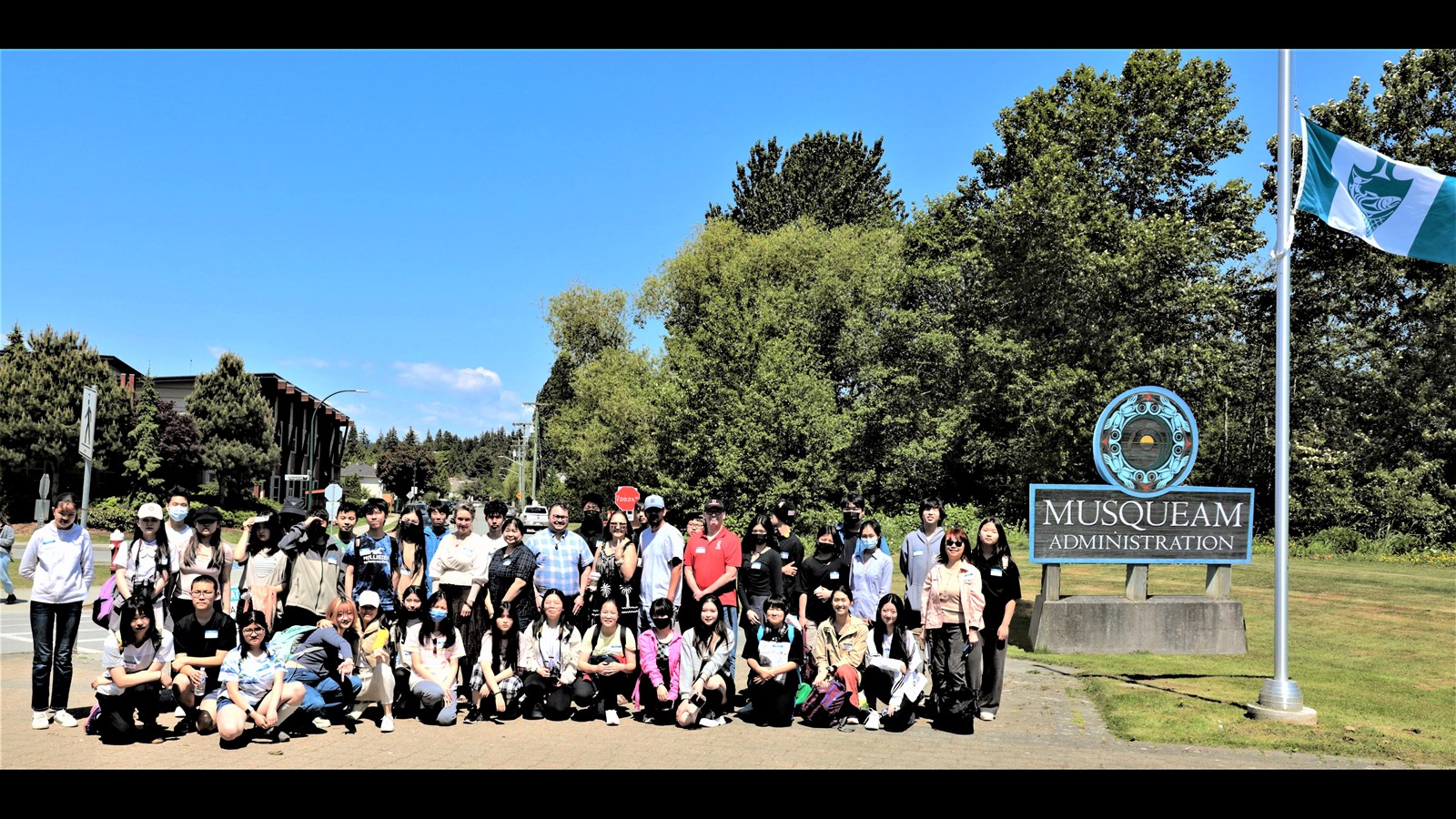 The Settlement Workers in Schools (SWIS) program at Lord Byng Secondary visited the xʷməθkʷəy̓əm (Musqueam) First Nation on May 25, 2023, to celebrate National Indigenous History Month. The field trip provided new immigrant students and parents with a firsthand experience to learn and hear about the culture and history of the xʷməθkʷəy̓əm (Musqueam) people. The trip was organized in collaboration with the Lord Byng English and the English Language Learning departments.
The SWIS program believes that that the field trip was an opportunity to help the students and their families gain first-hand experience on the history and culture of Indigenous peoples and their lands.
"New Immigrants are new members of the Canadian family. They need to learn and understand the history of Canada and be part of the reconciliation process," says Jerry Wu, the Manager of SWIS workers. Wu adds that this process is not only for their benefit but will also help Canadian society.
Janet Chung is a SWIS Settlement Worker who helped organize the field trip. "Hearing stories from Musqueam knowledge keepers in their own words and building connections with the Musqueam community in person provides a positive starting point for newcomers to continue exploring their journey of Truth and Reconciliation in schools and in Canada," she says.
Her words were echoed by the students who went on the field trip. They each wrote a short reflection on the experience.
Erica Tan, a Grade 11 student at Byng, says that she is glad her generation can learn about Indigenous stories. "I believe that in order to realize the importance of Truth and Reconciliation, we must listen to actual Indigenous voices telling their history, for they have been silenced in the past," she writes.
"Learning about their vibrant culture, a few phrases of their language, and Indigenous stories about resilience increased my determination to join the Truth and Reconciliation movement and create change," writes Eleanor Liu, also Grade 11.
Other students were inspired by seeing the art and artifacts of the Musqueam people.
"The artworks were crafted with uplifting and inspiring imageries of eagles, salmon, thunderbirds and more! All these new discoveries during the Musqueam visit greatly inspired me to explore more on the possibilities of the crossover of Indigenous traditional arts with modern contemporary arts and designs," writes Grade 8 student Katie Guo.
The SWIS Program is a school-based settlement service for refugees, immigrants, and other newcomers to the country. It helps people meet their immediate settlement needs after their arrival in Canada, as well as adjust to life in Canada as part of their new communities. The program is funded by the federal government through Immigration, Refugees and Citizenship Canada.