Code of Conduct
The purpose of the Code of Conduct is to help provide a safe and supportive environment for learning at school, on fieldtrips, and online.  As you move through the grades, you are expected to demonstrate increasing personal responsibility and self control.
At Tecumseh, we RISE
Respect – Improve –Stay Safe – Encourage
Respect
Make requests and respond politely and follow school rules.
Use appropriate words to express feelings and solve problems.
Consider how your words will make your peers and staff feel before expressing them.
Treat the school and environment with care and consideration.
Improve
Participate in class and complete work to learn skills and new knowledge.
Practice and share your learning.
Take responsibility for your actions and learn from unwise choices. 
Stay Safe
Safety first. Everyday. All the time.
Walk in the school and travel on the right side of the hall / stairs.
Play in the areas where you can see a supervisor/teacher.
Report promptly to class and have parent sign you out if you leave early.
Be sure teachers, parents or caregivers know where you are at all times.
Keep information private online and report anything that makes you feel uncomfortable.
Encourage
Smile and be kind to peers, staff and parents/ caregivers. 
Work together to learn from each other.
Recognizing strengths and efforts of peers.
Help your peers feel safe to ask questions and participate fully in class.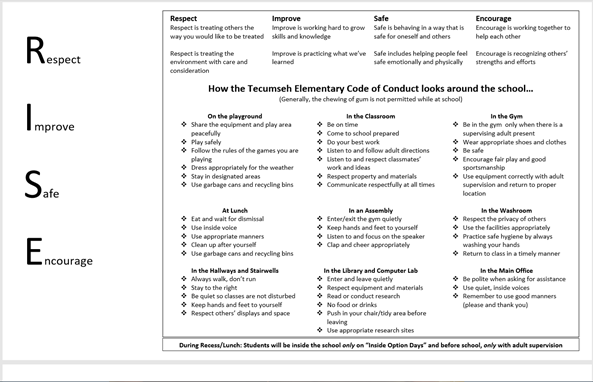 Edit
Pamphlet attached