Parking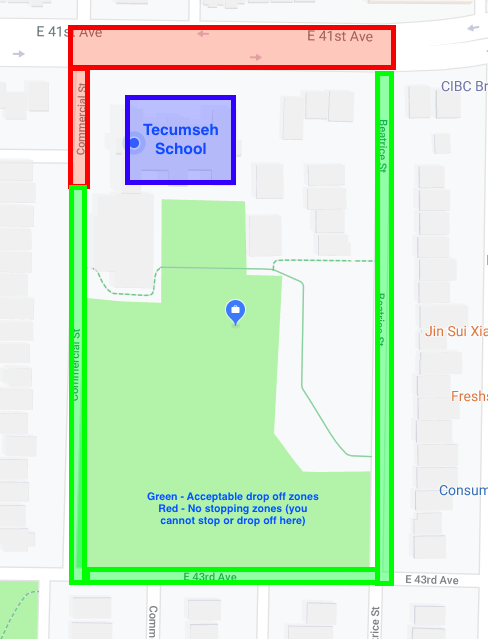 We all need to take an active part in ensuring students are safe when commuting to and from school. 
Please do not park on Commercial Street immediately adjacent to the school (South-East side, at Commercial and East 41st Avenue).  This area is traffic signed by the City of Vancouver as a  "No Stopping Zone (8:00—5:00 pm on School Days)" in order to keep sight lines clear for the safety of pedestrians and vehicle traffic that needs to access East 41st Avenue.  Keeping this area clear of parked cars, also allows for emergency vehicles to access the school should the need ever arise.
In addition, staff and parents have witnessed students being dropped off from cars on East 41st Avenue, resulting in some close-calls with through traffic on East 41st.  Please note, the City of Vancouver has new traffic regulations on East 41st Avenue.  There is No Stopping on East 41st Avenue from 7:00 am – 7:00 pm.
We suggest that families drop off their children on East 43rd, where students can safely walk across the fenced school field to the school.  Alternatively, please see the attached diagram showing the green zones where drop off is suggested.  Please do not drop off students in the staff parking lot.
Student and pedestrian safety are a priority.  Thank you for working together to ensure students arrive safely at school. 
Please do not park or wait for your student in our Staff Parking lot it is only for our school staff.  Thank you.