Students talk about the benefits of joining clubs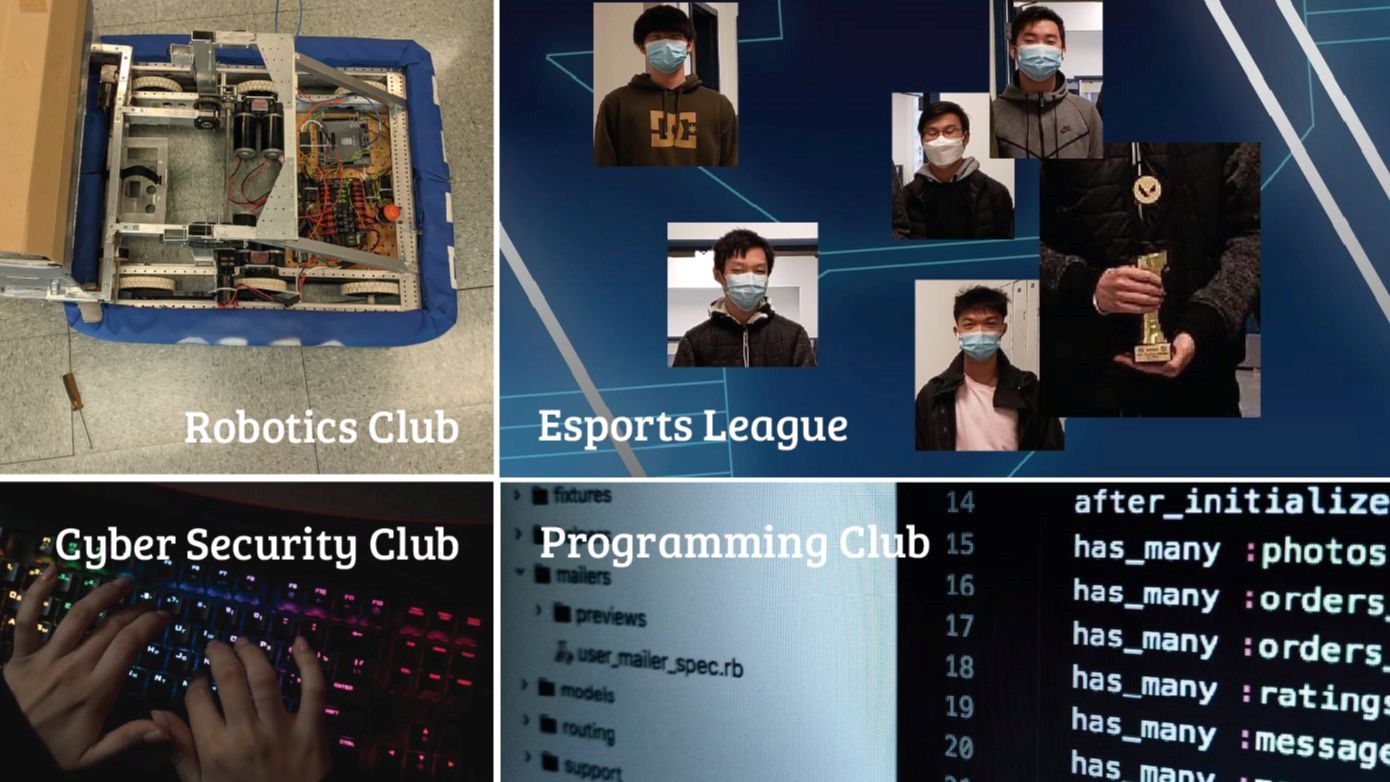 This year clubs and extra-curricular activities have scaled back, but thanks to volunteer teachers and the will of students to come together, clubs and activities are still and integral part of the secondary school experience. Students are seeking out ways to stay active, to learn a new skill, to socialize and to contribute to their important causes. Ms Seema Ali, computer science teacher who sponsors four technology related clubs says, "We didn't let COVID stop us!" We heard from some of the students from her popular technology clubs.
eSports Club
Esports is more than just video games and akin to a playing in a sports league where there is a governing body, and lucrative scholarships. Resilience, strategy, communication and innovation are some of the core values in E-sports.
Dian Yu talks about the very successful year they are having.
"Even with the pandemic going on, this year's eSports club has been a great success due to the club's unique nature of being all online. Our teams entered many tournaments hosted by different organizers, such as the Metro Vancouver Secondary School eSports Association (MVSSEA) and The Gaming Stadium (TGS). We have achieved great success in them, winning the MVSSEA Valorant tournament, placing third in the MVSSEA League of Legends tournament, and placing third in TGS Open Series Valorant Tournaments. We fought hard to achieve these standings, beating out some university teams and amateur/semi-professional teams. Our Valorant team is now challenging themselves by competing in the Valorant Champion Tour Open Qualifiers series, which is one of the highest levels of competition. As grade 12s, these competitions have been a great way to end off our high school experience, giving us many memories to remember for years to come."
Dian Yu
Programming Club
Raynard Wang explains how online meetings helped solidify the programming club,
"Last year, the Programming Club was abruptly cut short and ceased all activities due to the COVID outbreak. This year, we really wanted to keep the club going, so we asked our teacher sponsor for the safety guidelines in order to run the club. The Programming Club is functioning very differently compared to the previous years. In preparation of this year's Canadian Computing Competition (CCC), we gave our club members challenging CCC problems from past contests and hosted online meetings every week to give everyone a platform to share their own solutions and algorithms to the questions. Even though COVID has made it difficult for club members to connect with each other, the online meetings kept us in the club connected in a remote setting."
Raynard Wang
Robotics Club
With the hands-on nature of the Robotics, Geri Vaflor talks about the challenges their club faced during COVID.
"It was definitely harder to work on the bot since the class scheduling was complicated, so only a select members who either live close by or are available at certain times could attend live meet-ups... It's amazing how we managed to pull through with it despite all the handicaps. Even online meetings were difficult because some of us may also be attending an online class around the same time as the club meeting starts. Though there are at least twelve members in the club, only a select few really got to experience interacting with the bot, and it's quite a shame. We were able to run a successful fundraiser though, which was awesome! It's amazing how we managed to pull through with it despite all the handicaps. Overall, it was an extremely challenging year, but we somehow survived and complied with the submissions. Hoping for next year to turn out better!"
Geri Vaflor.
Cyber Security Club
Despite COVID-19 a new club was created to tackle security holes for experienced programmers. Tyler Wong talks about the positive learning experience.
"Killarney Secondary's Cyber Security Club is a new club created this year. Before creating the club, most of the members in the club had some experience with programming or networking, but cyber security was something new for everyone. During COVID-19, the club has held online meetings every week to teach programming, hacking, how to exploit vulnerabilities in a program, and the consequences of leaving a vulnerability untouched. For the most part, the club hasn't been affected too much during COVID-19. Online meetings with screen-sharing are enough forms of communication to discuss the matters at hand. Also, the Cyber Security Club has taken part in an online competition. During the competition period, participants could work on solving problems at any time. This layout of the competition was convenient for the club members since the members could work on a problem on their own or schedule a time to call and take on problems together. Overall, the experience was positive; everyone enjoyed solving the problems and learned something new. "
Tyler Wong