School History
THE HISTORY OF KILLARNEY SECONDARY SCHOOL AND COMMUNITY
This history is based on research by Social Studies students in Ms. Nicol's classes during the 2016-17 school year. 
We invite future Killarney students to build on these stories.
In the beginning… the Squamish, Tsleil-waututh and Musqueam people
The Squamish, Tsleil-waututh and Musqueam people lived on the land around Killarney Secondary school in south Vancouver for generations. They were in the Fraser canyon region for 8000 years and in the area of Vancouver for about 3000 years, living in temporary villages along the Fraser River and ocean inlets.
The aboriginal people hunted bear, deer and cougars in the thick forests and fished for salmon in the sea, river and streams. They traveled by large dugout canoes and walked on forest trails. Each Nation had its own culture and language and had complex economies, which included trade and potlatches with other First Nation groups.
The aboriginal people encountered Spanish explorers for the first time in 1791 and the English in 1792.   The mainland of what is now British Columbia became a colony of Britain in 1866 and joined Canada five years later. In 1886 the city of Vancouver was incorporated and a year later, the first train from eastern Canada arrived, bringing even more immigrants to the city.
The forest trail used for generations by the Coast Salish people (ancestors of the Musqueam) stretches through New Westminster to 7th and Main Streets in Vancouver. This ancient route became a major road known as "Kingsway" in 1913.

Today, there are more than 70 Killarney students who identify as having First Nations ancestry. The school also has a First Nations enhancement counsellor on staff. 
At the entrance to the Killarney Community Centre (next door to the school) is a glass and metal sculpture called "Bright Futures." It was created by Brent Sparrow, an artist from the Musqueam band, and installed when Vancouver hosted the 2010 Winter Olympics.   The symbolic images engraved on the glass are of a large "face" in the shape of the sun, surrounded by eight small "faces." The sculpture is intended to welcome visitors and athletes "with warmth and open arms" now—and in the future, according to the artist's statement. It is also a reminder that the First Nations people lived here for thousands of years. The artist acknowledges his ancestral ties to this part of British Columbia and writes: "I hope that the people's hard work pay off and the bright futures goes on."
Farming in the Killarney area (1868-1920s)
As the population of Vancouver grew in the 1800s, settlers came to the Killarney area to farm.   The first farms were "cut out" of the forest in 1868 by surveyor William Rowling. His own family had 3.5 kilometres of land along the Fraser River. In 1878, George Wales, a prominent farmer, settled in the area too. Oxen were used to plough the rich soil and the Fraser River provided water.
In 1892, South Vancouver became an independent municipality as more people moved to the area. Residents planted many different vegetables in their yard. They harvested fruit such as blueberries, strawberries and apples. They also had crops of potatoes, lettuce, broccoli, tomatoes and cucumbers. There was still bear and deer in the area until the early 1900s.

Avalon Dairy farm—at 44th Avenue and Wales Road—has been producing milk on a family farm since 1906 and still exists. Their proud history is on- line at http://www.avalondairy.com/our... Everett Crowley, who owned the dairy, went on to become a Parks Commissioner and has had a park in south Vancouver named after him.

Other heritage farmhouses built in the 1920s still stand.

Expansion of residential south Vancouver (1900 to 1950s)
In the early days, there were no proper paved streets—only broken trails and wood-planked roads and sidewalks. A beautiful cold water spring became a way for people to cool their bottles of beverages. Unfortunately residents shot the wild animals that wandered on to the streets. Candles were used by families at night time until electricity came to the area. When telephones were first invented, only a few homeowners had them. If a call came in for a neighbour, the homeowner would write down the message and one of their children would deliver it.
Many children played at the site which is now known as Everett Crowley Park. There were many brooks, a ravine and a waterfall called Goat Falls. Below Goat Falls was a large stream that children blocked with rocks and logs to make a swimming hole.

South Vancouver began expanding even more when the interurban streetcar lines were constructed in 1909.    A young passenger could ride around all day for 5 cents.    Customers could use their own pail or jug to buy milk. If you didn't want to go shopping, you could have your groceries delivered at home. Salmon was still abundant in the streams in the 1920s. A Chinese-Canadian fish pedlar, carrying a pole across his shoulders with a bucket balanced on each end, delivered fish door-to-door—right up to the 1950s.

South Vancouver and Point Grey amalgamated with Vancouver in 1929 and the city became the third largest in Canada.
Paved roads and sidewalks came to the area in the early 1930s. The swampy land where Killarney Market now stands, was covered up with landfill. The Fraserview Golf clubhouse was built in 1938.   Local residents always had good memories of playing golf there.

South Vancouver was the last part of the city to be developed for residential housing after the Second World War. This included housing for returning war veterans and their families.

Killarney Secondary School - 1957 to the 1960s
As more families moved to south Vancouver, a high school was needed. When construction of Killarney Secondary along 49th Avenue near Kerr Street began in 1956, the site was surrounded by vacant lots.    Opened in the fall of 1957, the school was named after Killarney, Ireland because of the many Irish immigrant pioneers in the South Vancouver area. At the official opening ceremony, a stone from Dunloe, a small village in the district of Killarney, Ireland, was embedded on to a plaque and hung on the wall in the school's foyer.
The first year, there were 1,260 students, 52 teachers and only four levels— grades 7 to 10. The principal was Mr. A. Thomas Alsbury who would later become the mayor of Vancouver. The yearbook was handmade by students with lots of clovers as symbols of Irish culture. Robert Mackay was the first elected President of the student council. Photographs show students dressed formally, with males wearing suits and females in skirts and dresses. Killarney's slogan was to be "semper fidelis" which means "always faithful" and the shamrock—an Irish symbol— became the school's emblem.

In 1958, grade 11 was added and the year after that, grade 12. The first graduating class was in 1960.      The city's population continue to increase and farmers in south Vancouver began selling off land to make way for more residential housing. Most of the families in these years were of British and European background.
Students enjoyed school life. It seemed like simpler times. In the late 1950s and 1960s, students had skating parties. There was even a "future teachers" and "future nurses" club as well as a United Nations and Red Cross club.        Girls were cheerleaders and played grass hockey. There were lots of sports for boys, including soccer, baseball, hockey and basketball.

American style football was popular. In the yearbooks, many students wrote poems and articles and displayed their art work, including a wonderful artist called "The Cartoonist."

The males had short hair—up to the "hippie" times when some of them began growing their hair long. Females had "bee-hive" hair-dos and wore make-up. The graduation photos were in black and white. Students looked more mature than now.  Not all Killarney students graduated if they could find a job at age 16. Many students did not plan to go to university after graduation.
When the school opened, the Killarney "stone" was presented to students and staff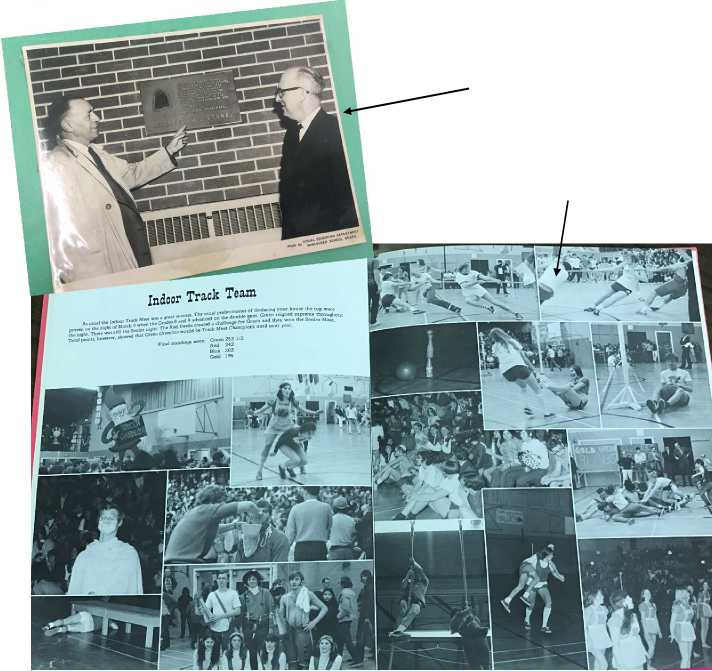 Killarney students in the 1970s

School life & the community in the 1970s and 1980s
By 1970, the population had increased so much, the school had to add ten portables until additional wings were built. It was the "disco" era. The Electric Crow Disco Dance was the name of a student dance.       Girls had long straight hair. They also started wearing pants to school. Lots of students had haircuts with bangs. The P.E. strip was black shorts and white tops.
Students had a club for golf, bowling, wrestling and juvenile soccer, as well as a ski, scuba and cycling club and a haircut club! There were exciting indoor track meets. Yearbook photos included the students' phone numbers and addresses! Students liked to doodle and some had their thumbprints with their autographs in yearbooks.               Advertisements for food and car repair helped pay for publishing costs.   The yearbooks also show photographs of "student couples" walking around the school.

Students walked to school usually because they lived nearby (unlike today) and there was limited public transit.   Langara Community College, which started in 1965, moved to its current location on 49th Avenue in 1970.  Many Killarney grads have attended Langara.  In 1973, Champlain Mall opened with 32 stores, including Kinney Shoes, Kits Cameras and Glenn's Records and Tapes.
Killarney teachers who were students here in the 1970s and 1980s said they enjoyed going to Killarney and had lots of friends. They remember having classmates who became famous too.
Ms. Mohan is one of these teachers. She was anxious when she first went to Killarney and remembers some students played tricks in the hallway. She also remembers the school was not as diverse as it is now. The sense of community has stayed the same, she believes, and Killarney makes you feel like you have a place to belong.   Ms. Mohan remembers lots of fun activities like dancing, skiing, tackle football and live bands.

According to another Killarney teacher, Ms. Schwab, who was also a student here in the 1970s, boys got into more physical fights.  Also students had to work much harder than they do today to get an "A." There were not too many "second chances" for students who broke the rules either.      It was a blue-collar neighbourhood back then, Ms. Schwab says, and housing was much more affordable. She recalls different classmates who went on to become a heart surgeon, accountant and engineer.
By the 1980s, more students were enrolling in the school who came from diverse racial backgrounds. There were more extra-curricular activities and the music and drama departments were very active. The Wizard of Oz was performed one year. Judy Wright was Killarney's very own super swimmer. There was boxing at school—even though the boxing gloves were in bad condition. There was a broadcasting and rope-climbing club too.

Here's what teachers who went to Killarney back in the 1980s and 90s have to say: Ms. Semail remembers there were lots of sports clubs when she went to Killarney—and a great school spirit. Mr. Chen Henry "loved" Killarney and his favourite teacher was Mr. Wood, who taught math. He says Killarney is always welcoming every student. Ms. Wong said her school days were a "good experience." She said the school spirit was strong, especially in sports.

Ms. Nejad says lots of things have stayed the same, like the sports, music and drama programs. To her the tradition of Killarney is its diversity. Ms. Mahovlich enjoyed her time at Killarney as a student too. "It was really a good opportunity to meet lots of different people," she says. She notices students are still passionate about learning and volunteering. Mr. Kachmar remembers school was fun and says he made lots of friends. He says the school has always been a welcoming place.
School Life & community in the 1990s and the 2000s…..
By the 1990s and onward there were more students with roots in China, Philippines, India, Korea as well as countries in Africa and Central and South America.    There were also visiting students from other countries, known as international students.
Students' lives were interesting. There were more courses for students to choose from by the 1990s. Many international field trips occurred. Sports and fine arts continued—through rugby and football were gone. Clubs included the Students Affirming Gender Equality (SAGE) club, the Environment club and the Christian Fellowship. There were also photography, anime and computer clubs in the 1990s, reflecting the development of technology. The Cougar Mart started in the 1990s too. Life for students became more organized and students had their own goals. More students went to university after graduation. Teachers were better trained too.

Students still liked walking with their friends and bumping into a locker to have fun. Grad pranks could not be missed at the end of every year. The school used to have a pay phone! That was before students got their own iphones.
Killarney School and community today
Killarney Secondary is a multicultural school of 2000 students and more than 100 teachers.  It is the largest high school in the Vancouver School District.   The school has had 57 graduating classes, including the 2017 grads.
There have been 13 principals, most male and Caucasian, with the exceptions of a male Japanese-Canadian principal and two female principals. The teaching staff has become more racially diverse and with more female teachers in "non-traditional" subject areas, such as science, math and social studies.

Many successful people once attended Killarney, including Angela Chow, an entertainer, Colin Mochrie, a comedian, Milan Lucic, a professional hockey planer and Wai Young, a politician.
Everett Crowley Park opened in 1987 and is Vancouver's fifth largest park. In the 1940s it became the Kerr Road Dump and operated as a landfill until 1967. The park has been re-forested and is 38 hectares and has a waterfall ("Goat Falls") and a ravine.   It has the longest Earth Day celebration in the city.
Champlain Heights Elementary School was designed by Arthur Erickson, a well-known architect who designed Simon Fraser University.
There are many housing co-operatives and apartment complexes and in south Vancouver, some separated by nature trails.   The first housing co-op in Vancouver was built in this area in 1970. Several senior care homes are scattered around the neighbourhoods too. Churches, Sikh temples (including the Ross Temple built by architect Arthur Erickson), mosques and Buddhist temples reflect south Vancouver's diversity.
There continues to be many trees and wildlife around the school, including coyotes.   You can see the coastal mountains from many northern facing classroom windows.   At the foot of Kerr Street where the Fraser River flows, the long-time Fraser sawmill closed and has been replaced with residential condos. The area is now called the "River District."

A centennial plaque with a time capsule in the Killarney school entrance is to be opened in 2071. It has been placed in the wall, behind the plaque. The objects in the capsule signify the people who went to Killarney and will show students in the future what life was once like.
So much has changed at Killarney since it was opened in 60 years ago. Some things never change—like students reading Shakespeare and square dancing in the gym.

*****
Sources: Killarney Yearbooks (1957 to 2017); Student graduation photographs and plaques along Killarney Secondary School hallways; interviews with former students who are Killarney teachers; "Collected Memories: The Discovery Project for South East Vancouver."