Mini School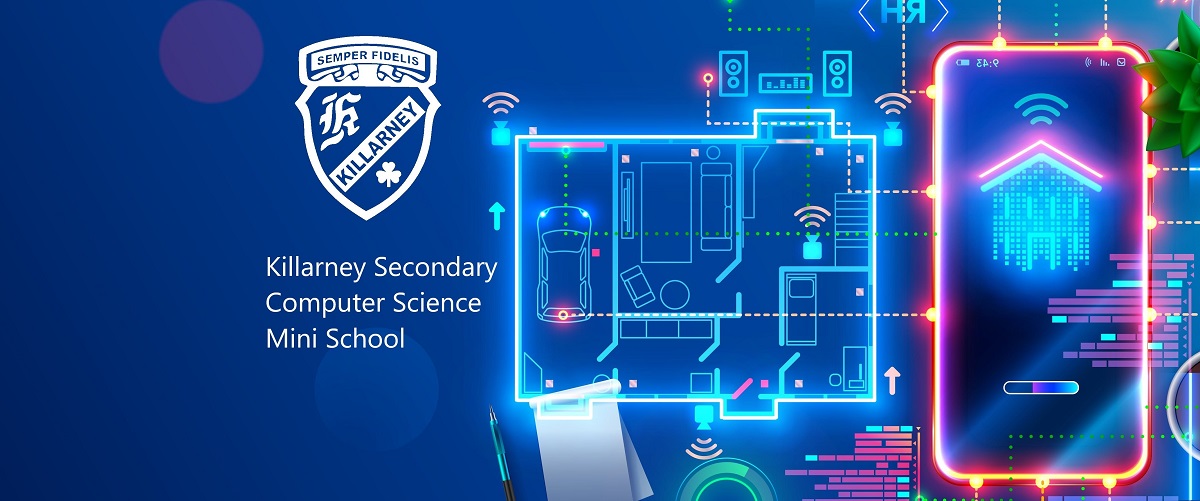 The Mini School enrichment offering will be taking on a new look as of September 2022. The Killarney Computer Science Mini School will be accepting applications for the 2024-2025 school year between Nov. 9th - Dec. 8, 2023. See below for details.
======================================================================
KILLARNEY COMPUTER SCIENCE MINI SCHOOL – SEPT 2024 INTAKE
The Killarney Computer Science Mini School is a Computer Science focused experience for highly motivated students. Students will experience an enriched math, science and information technology curriculum (Grade 8-10) for the junior high school years, and then be able to focus on a specialty area for grades 10 – 12. The specialty areas include:
· Programming (Machine Learning/Artificial Intelligence)
· System Administrator
· Network Administrator
· Cyber Security
· Robotics
Our intention is to encourage Killarney Mini School students to display intellectual curiosity, develop as critical thinkers, give back to their community, explore issues in depth, and develop into well rounded individuals who gain resilience. These outcomes (or qualities) will offer them skills they can take to real world employment and leadership, post-secondary and beyond.
Students:
If you are able to work collaboratively and independently, find and create ways to contribute to your community, have a positive attitude, and want to be part of a team and program, we encourage you to apply to the Killarney Computer Science Mini School!
Parent and Student Information Night: THURSDAY, NOV. 9TH, 2023, 6PM - Killarney Auditorium (ENTER DOORS AT 48TH AVE EAST AND KILLARNEY STREET). Thank you for those who attended! It was great for us to see. If you missed our information session, please see our slide deck CS Mini Parent Orientation 2023.pdf
APPLICATIONS WILL BE ACCEPTED FROM NOV. 9TH - DEC. 8TH, 2023.
How to apply to the Killarney Computer Science Mini School:
Download the APPLICATION PACKAGE
The application form is a fillable PDF file. A paper copy is also available from our main office.
Complete the APPLICATION PACKAGE and PRINT. Attach MOST RECENT REPORT CARD AND PHOTO. Incomplete packages will not be considered nor will you be contacted should the package be incomplete.
Submit complete hard copy package to the Killarney Main Office at 6454 Killarney St. by 3:30pm, Dec. 8, 2023. A complete package includes:

MOST RECENT REPORT CARD
STUDENT PHOTO
NOTE: INCOMPLETE APPLICATION PACKAGES WILL NOT BE CONSIDERED. YOU WILL NOT BE NOTIFIED IF YOUR APPLICATION PACKAGE IS INCOMPLETE. STUDENTS WHO LIVE IN VANCOUVER ARE ELIGIBLE (THOSE WHO LIVE OUTSIDE ARE NOT).

The Killarney Computer Science Mini School Assessment on Dec. 1, 2023, 1pm-2pm, in the Killarney cafeteria. SIGN UP DEADLINE IS NOV. 29TH, 2023, MIDNIGHT. LATE SIGN UPS WILL NOT BE ALLOWED. Students are expected to attend this assessment. Parents are asked to drop off and pick up students, and to not enter the building due to health and safety regulations. To RSVP and confirm student attendance:

Use the following password to enter the RSVP survey: DEADLINE HAS PASSED
Topics on the assessment: Order of Operations, Integers, Fraction/Percent/Decimal/Ratio conversions, Algebra, GCF/LCM, Logic/Reasoning. NO CALCULATORS ALLOWED FOR ASSESSMENT.
The assessment will be on paper. Please bring your own pen, pencil, and eraser.
The survey system will thank you for your entry upon completion as a confirmation. You will NOT receive a confirmation email. You will NOT receive a reminder for the assessment.
ENTER FROM OUR MAIN ENTRANCE AT 6454 KILLARNEY STREET. Student volunteers will direct grade 7 students to the cafeteria.

Register your application on the VSB MINI SCHOOLS REGISTRY. The link to sign up on the registry will be available after Nov. 14th, 2023 on this page: https://www.vsb.bc.ca/page/5292/mini-school
Important Dates (for ALL VSB mini school programs):

FEBRUARY 28, 2024 - First Round Offers sent to parent emails as per application package
MARCH 1, 2024 - First Round Offer Acceptance Deadline
MARCH 6, 2024 - Second Round Offers, 24 hour acceptance deadline, and 3rd/4th/etc rounds.
Should any of our selected 30 students decline between March and September, all other applicants have been placed in a prioritized sequence waitlist.
We want to thank all the students and families for applying. Unfortunately, the process is very competitive for the limited number of spots.
Student Testimonials