SWC: New Media 11
New Media 11 offers a program of studies designed to reflect the changing role of technology in today's society and the increasing importance of digital media in communicating and exchanging ideas.

The course is designed to acquaint students with all aspects of podcasting and to help them become better storytellers. With an emphasis on ethical practices and First Nations' storytelling protocols, students learn to think critically about the stories they consume and are given a working knowledge of current trends in audio production. There are lessons on sound gathering using professional sound gear as well as cell phones, interviewing, script writing, audio editing and developing a "radio voice." Over the course of a year, students participate in the development and production of feature-length podcasts on subjects of their choice.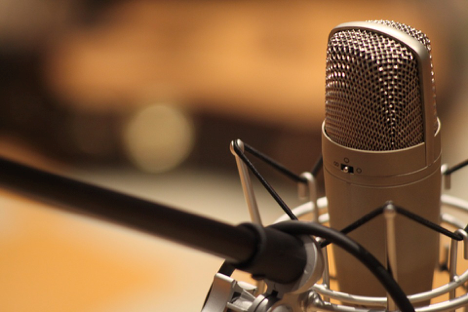 ---
We will be talking about how sports play a role in politics, equality in sports, significant events and how both teams and fans are affected by COVID19.


In our podcast we would like to invite you to a journey over the oceans and seas, taking a look at all the amazingly diverse food without stepping out of the comfort of your home.

We will try to bring light to creatures of darkness to understand them, but most importantly, to see if they really are as scary as they are made out to be.

The purpose of the podcast is to enable audiences to know the real stories and lives behind famous composers, what it takes for composers to make their dreams come true, and to illustrate how music affects our culture and society.

Our podcast unravels the complexities and impacts of beauty and body image. We cover male and female perspectives, and present new insights with compassion.

As experienced gamers we would like to bring you on a journey down memory lane to discuss the best video games of the past decade.

Our podcast is focused on the education system. We explain the history of public schooling and how it worked/works.

A true crime podcast covering murders, missing and unsolved cases.
In Teenagers Gone Global, I interview teenagers in different countries on topics like school, Covid-19 and life.

---
The After School Club:
Are you interested in world news and global issues? If so, check out our weekly current events Podcast!
Banned in China:
Banned in China is a Podcast that examines the protests in Hong Kong. It opens a healthy discussion about the situation in Hong Kong and hopes to inform while entertaining.

Big Sister Gossip:
Our upcoming Podcast – Big Sister Gossip – aims to give advice and help teen girls find their way through high school more easily. We plan to share our personal experiences to highlight the challenges and resiliency of teen girls. We will address more sensitive conversations in a serious but light-hearted manner, in order to appeal to all audiences. To make things interesting, we will interview our classmates to provide different perspectives on what we talk about.

China Sovereignty:
This Podcast examines issues with Chinese sovereignty – including Hong Kong, Taiwan and Tibet. What does sovereignty mean for the People's Republic of China?
Cultural MarxismNET:
Our group is doing a Podcast about debunking neo-reactionary agendas and different issues that have to do with politics. Despite coming from different political backgrounds we unite against a common evil - the political commentators that fabricate their stories and manipulate millions of people.
DOTmp3:
DOTmp3 is the newest and hottest hip-hop music Podcast to come out of Vancouver! We expose and uncover the music industry and everything that happens behind the scenes. Tune in to our upcoming interviews with Vancouver rappers!
False Effects:
False Effects is a Podcast where we explore the realm of false memories, and how susceptible we are to them. In this Podcast we will define and discuss the history behind the popular Internet phenomenon, the "Mandela Effect," analyze scientific research into cognitive memory, connect it to the real world and much more. False Effects is the only facts-first memory-related content you need -- without all those conspiracy theories!!

Good Games Entertainment Zone:
Good Games Entertainment Zone is a Podcast about gaming! We focus on upcoming events and big changes that may happen in the gaming field. It is hosted by four high school students who love to game and would love to share the news with you.

The History of Swear Words:
The History of Swear Words is a Podcast about swear words! The Podcast adds different perspectives and focuses on the history of swear words. It's hosted by two highschool students fascinated with the topic of swear words. This gives the Podcast a youthful insight on the topic.

HSLifestyle is a creative new podcast that is about high school, made by high school students! Check us out if you like talking about high school events, problems and more! For our first season we will look into problems with vaping at high school!
Idiots and Dragons:
Have you ever wanted to escape to a world of fantasy and great adventures filled with brave and amazing hero(in)es? Fear not, the Idiots and Dragons Podcast is not that! Watch five idiots partake in adventures meant for far more capable adventurers ... and probably succeed (or die trying…)!

The Mission To End Emission:
We are group of young teens that are passionate about the environment. Our Podcast includes us asking powerful questions about what the future of the climate crisis holds for us. If you are passionate about climate change and are concerned about the future, you should join our Mission To End Emission!

The Karbdashians:
The Karbdashians are four passionate high school girls with the love for food. They have fun personalities and love to try and create new foods. Join them on their adventures trying different foods around the city.

Lost & Forgotten:
Lost & Forgotten is a horror-debate Podcast. Our focus is on story-telling and then debating on the authenticity of those stories.  The hosts are The Assistance Importer, Duffy, Hunku and ZS.

The Parasite Shaping Our World:
A fresh take on the age-old mystery: Is social media bad for your health? Three benevolent teens attempt to uncover the twisted valleys of the mind-churning concepts surrounding social media. With the help of others' viewpoints and expert interviews, these teens will discover the not-so-glamorous purposes of certain elements involved with the digital world.
A Peek into the Past:
Peek into old-school, classic movies! We analyze the (un)likeable aspects, bring back golden values and heal your nostalgia!
Shower Thoughts:
Are you constantly being reminded of achieving a high grade? Do you get pressured to go into  a career that you have no interest in? Shower Thoughts is a Podcast focused on talking about the same experiences that children of immigrant parents have. We offer informative and entertaining discussions about how to deal with and solve the problems that we encounter. You are not alone! Shower Thoughts is with you! We think together, we shower together!
Studio Trapping Churchill Boys Podcast:
Introducing the STCB Podcast: Bringing you the latest and hottest news in hip-hop. We talk about everything from controversy and drama to album releases and memes. We are three high school students with a passion for music and we'd love to share it with you!
Tech Sup:
Tech Sup is a Podcast about new technology and products in the market. We discuss everything from microchips to massive trucks that rely on the power of technology. Make sure to join us to listen to our Podcast to learn more about our topic.
The Three Troops:
Fires, hurricanes, tsunamis, which are all ferocious forces of nature. If you want to listen to a trio of idiotic friends talk about Mother Earth and her Beautiful Wonders, tune into the Three Troops!