Shakespeare's Life and Times
The Life and Times of Shakespeare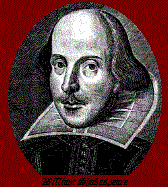 Overview
To better understand the work of William Shakespeare, it is useful to know something about the times in which he lived. What was it like in Elizabethan England? How were his works reflective of society at this time? 
 
This project was initially created to the study of William Shakespeare's A Midsummer Nights Dream, but serves in giving an overview for any Shakespeare unit.  Assignment will vary in scope and format depending on your teacher. 
Check with your English teacher for details pertaining to your class project. Options may include one or more of the following: Poster Format / Written Assignment / Oral Presentation / Role Play etc. 
You will be required to take notes and keep a record of all the resources you have consulted for a complete bibliography. 
You can view the bibliography style guide or follow the step-by-step lessons for each type of resource.
---
List of Topics
SHAKESPEARE'S LIFE: a biographical sketch of Shakespeare - the man, his family, his life
SHAKESPEARE'S THEATRE: The Globe - construction, use, the actors, etc.
THE CHARACTERS from A Midsummer Night's Dream: and their mythological counterparts Hippolyta, Theseus and the Amazons Diana, Cupid, Venus and the fairies
FASHION / COSTUME: comparison between men's and women's clothing during the Elizabethan era, as well as the differences in the social hierarchy
THE ROLE OF WOMEN: compare / contrast the life of women in Elizabethan times versus present day society and a look at the relationship between the sexes
QUEEN ELIZABETH I: a biography and a look at her contributions to the politics and social structure of the times
KING JAMES VI: a biography and a look at his contributions to the political and social structure of the times 
Other possible topics ...
Shakespeare's Era: a look at the cultural aspects of Shakespeare's England - the entertainment scene, etc.
Elizabethan Music: the travelling musician, the bard and his role in society
The Romantic Comedy: the genre, what it is, and examples form Shakespeare's works
Magic and Healing: a look at the theories / beliefs and opinions on witches and sorcery
Customs and Manners of the Time: social etiquette, rites and rituals, daily life
Health and Medicine: hygiene, medical practices, discoveries made at this time
Weapons and Warfare
Life in London: What was it like? business / entertainment / the streets & markets
Politics and Government during the reign of Queen Elizabeth I or King James VI
Inventions and Industry: Advances and discoveries in technology
Travel and Transportation
Education: Who was educated? What opportunities existed? 
---

Resources in the REFERENCE Collection 
William Shakespeare: His life, His Work, His Influence [REF 822.3 SHA] - a 3 volume set of with a comprehensive look at life during Shakespeare's life. Each volume complete with full index
The Encyclopedia of World Biography [REF 920.003 ENC] 
---
Search VSB Library  the online catalogue for additional resources on your topic.
POSSIBLE SUBJECT HEADINGS TO SEARCH:
SHAKESPEARE, WILLIAM - BIOGRAPHY [921s]
SHAKESPEARE, WILLIAM - CHARACTERS [822.3s]
SHAKESPEARE, WILLIAM - CRITICISM AND INTERPRETATON
SHAKESPEARE, WILLIAM - SONGS AND MUSIC
COSTUME - HISTORY [391s]
ELIZABETH I
ENGLAND - HISTORY [942.07]
ENGLAND- SOCIAL LIFE AND CUSTOMS
JAMES VI
MAGIC [133s]
MEDICINE [609 - 610]
MUSIC - HISTORY [780s]
MYTHOLOGY [291 -292s]
THEATRE - HISTORY [790s]
WOMEN - HISTORY [305.4]
WOMEN - SOCIAL LIFE AND CUSTOMS and more ... 
USEFUL INTERNET SITES  
ELIZABETHAN LIFE