Strathcona Elementary leads Pride Parade in a colourful display of love and inclusion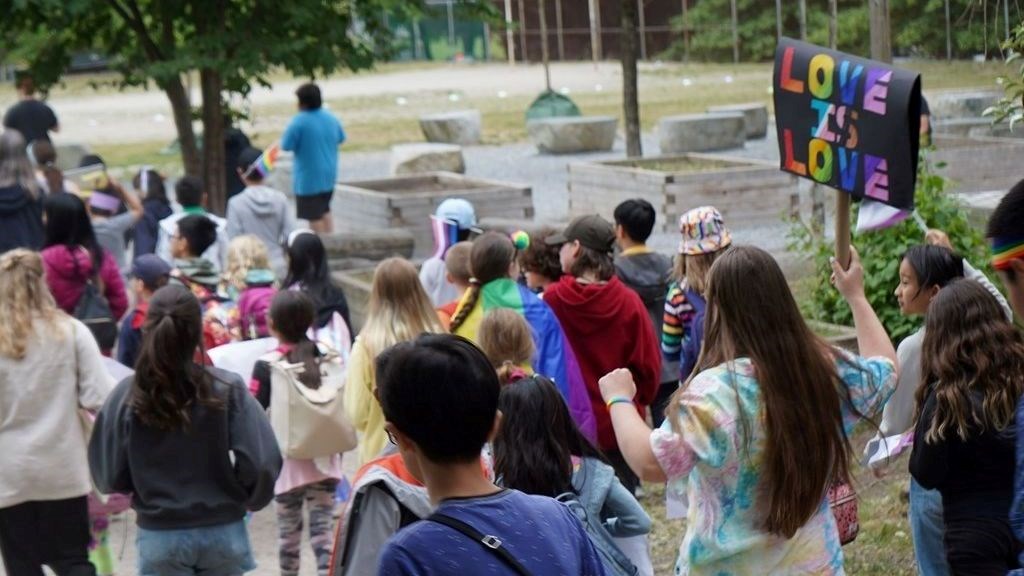 "Love is love! Love is love! Love is love!"
That was the sentiment that echoed through the streets of Strathcona neighbourhood last Friday as kids marched together for the Strathcona Elementary-led Pride Parade.
The event was organized by Grades 4-5 teachers Luey McQuaid and Judah Kong. McQuaid, who is the lead organizer with the SOGI (sexual orientation and gender identity) Committee, helped raise funds to make the event possible, and Kong provided art supplies to the students for decorating their own Pride outfits.
"We're here, it's great to be gay and we celebrate everybody's differences," said McQuaid. "We love and care about you and will make sure that we're all safe in this community."
The parade kicked off at the corner of Keefer and Jackson, where children, teachers and staff from Strathcona, šxʷwəq̓ʷəθət Crosstown and Seymour Elementary schools proudly displayed their colourful banners and flags, spreading messages of love and acceptance. Some children wore handmade accessories, while others sported rainbow-themed outfits to showcase their support for 2SLGBTQIA+ rights and inclusivity.
Participants danced and sang their way around the block as they drew a crowd of supporters who cheered them on until the parade reached its grand finale at McLean Park. At the park, the vibrant atmosphere continued. Rainbow cupcakes were handed out to students and their teachers as they enjoyed a live performance by the Strathcona choir.
When asked what message the parade sends to the community, VSB Trustee Janet Fraser said, "It sends love, inclusion and a sense of community. When people see this happening and how much the kids are invested, that's going to be really important."
From colourful outfits to upbeat music and the sweet taste of rainbow cupcakes, the Pride Parade organized by Strathcona Elementary celebrated the 2SLGBTQIA+ community and exemplified the District's commitment to fostering empathy and respect for all expressions of identity.