Giving back to survivors of residential schools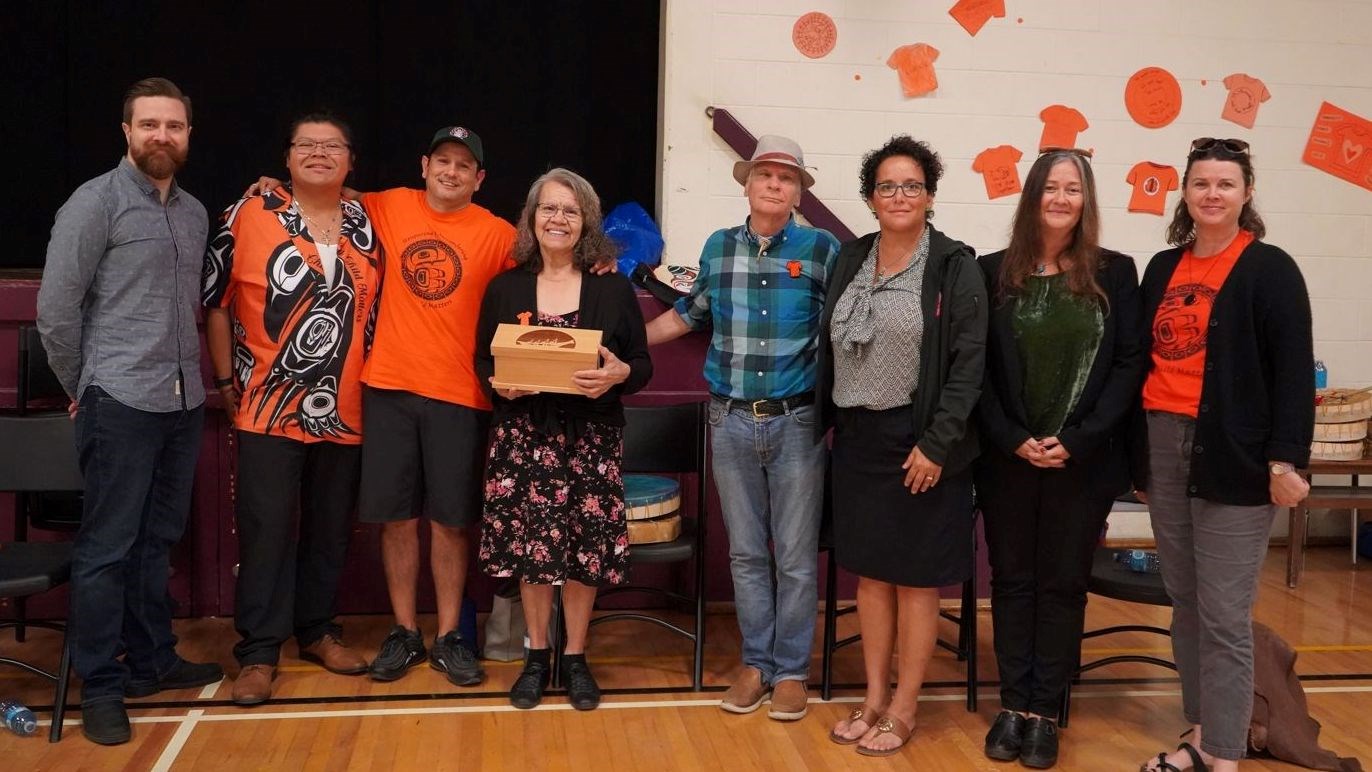 In September of 2021, Chad Carpenter an Indigenous Education Worker at the Vancouver School District who is originally from Lheidli T'Enneh Nation (Prince George) began a project with students that would honour survivors of Residential Schools.
It all started with orange shirts. He began by sharing his own story of being an intergenerational survivor of residential schools. "I went into 60 classes and I unpacked the truth, a lot of the times from my perspective. I shared my personal relationship with the history of residential schools," says Carpenter. His own experience tells the story of being a grandchild of residential school survivors and a survivor of the 60s scoop. Shortly after moving to Vancouver with his mother and brothers, Carpenter and his brothers were taken from their mother and raised in a series of foster homes. "My parents had to deal with their own trauma that they then passed down to us."
Students from classes at Lord Roberts Elementary, Sir Alexander Mackenzie, Carnarvon Elementary and Lord Byng Secondary were moved by Carpenter's personal story as well as the cultural and historical lessons he gave. They then signed their names on orange t-shirts to acknowledge and support a survivor of residential schools. It was Carpenter's hope that gifting these t-shirts to residential school survivors would help them on their respective healing journeys. But first he needed a vessel for the shirts.
Carpenter turned to Shain Jackson, owner of Spirit Works Gallery to create bentwood boxes for the t-shirts. Jackson created 60 bentwood boxes, each engraved with a canoe and four people rowing. These four people symbolize the xʷməθkʷəy̓əm (Musqueam), Sḵwxwú7mesh (Squamish) & səlilwətaɬ (Tsleil-Waututh) Nations on whose traditional territory the Vancouver School District is situated on. The fourth rower, represents the Vancouver School District, and the journey of all four groups pulling together toward reconciliation.
After hearing about this project, several staff pitched in. "Lori York, who works at Lord Byng and Tracy Healy who works in our Indigenous Education Department led the creation of healing ceramic medallions and healing salves," says Carpenter. With students at Byng, they harvested medicinal healing plants from Camosun Bog consisting of cedar, slahal, pine, huckleberry and imprinted them on clay medallions. Students picked cottonwood that was then made into a healing salve to be placed into boxes.
Another colleague, Judy Ronnenberg donated abalone shells for the boxes. Ray MacEwan, a Lakota Métis Elder visited classrooms to assist students in the creation of warrior sticks and traditional Lakota sand art cards. Carpenter also included four sacred medicines: sage, tobacco, sweetgrass and cedar in the boxes to be utilized as part of a survivor's healing journey.
"For each person who receives these gifts, I know it will be very meaningful for them on their healing journey. Our schools within the VSB are on a journey to share the truth with the future generations and that's the beauty of the process of reconciliation. Year in and year out, we're going to continue to learn about the truth so that it's never forgotten and doesn't repeat itself," says Carpenter.
After compiling the 60 boxes, Lord Roberts, Mackenzie, and Carnarvon Elementary Schools each hosted Honouring Ceremonies where they listened to residential school survivor Gertie Pierre's personal experience and were able to present a box to her. "The first one she kept for herself, and the others she received symbolically on behalf of the Indian Residential School Survivor Society," Carpenter says.
According to Carpenter, the creation of these 60 bentwood boxes were a way for students to take part in their individual journeys of reconciliation. "For me, reconciliation needs to come from the Canadian population. Reconciliation is not up to the people who were affected. That's not a divisive statement, that's an inviting and welcoming statement—an invitation to walk together as allies by reconciling the past."
With 60 boxes created and only three gifted so far, the District will have many more gifts available to honour both individual survivors as well as organizations in the years to come. Although many of the students who took part in creating the boxes will never meet the recipient of their box, the hope is that the effect of learning and acknowledgement that was done this past year around reconciliation will reverberate from the students who took part in this project, to their families and to the wider community.