Smokehouse in the City: sharing traditional teachings, caring for the community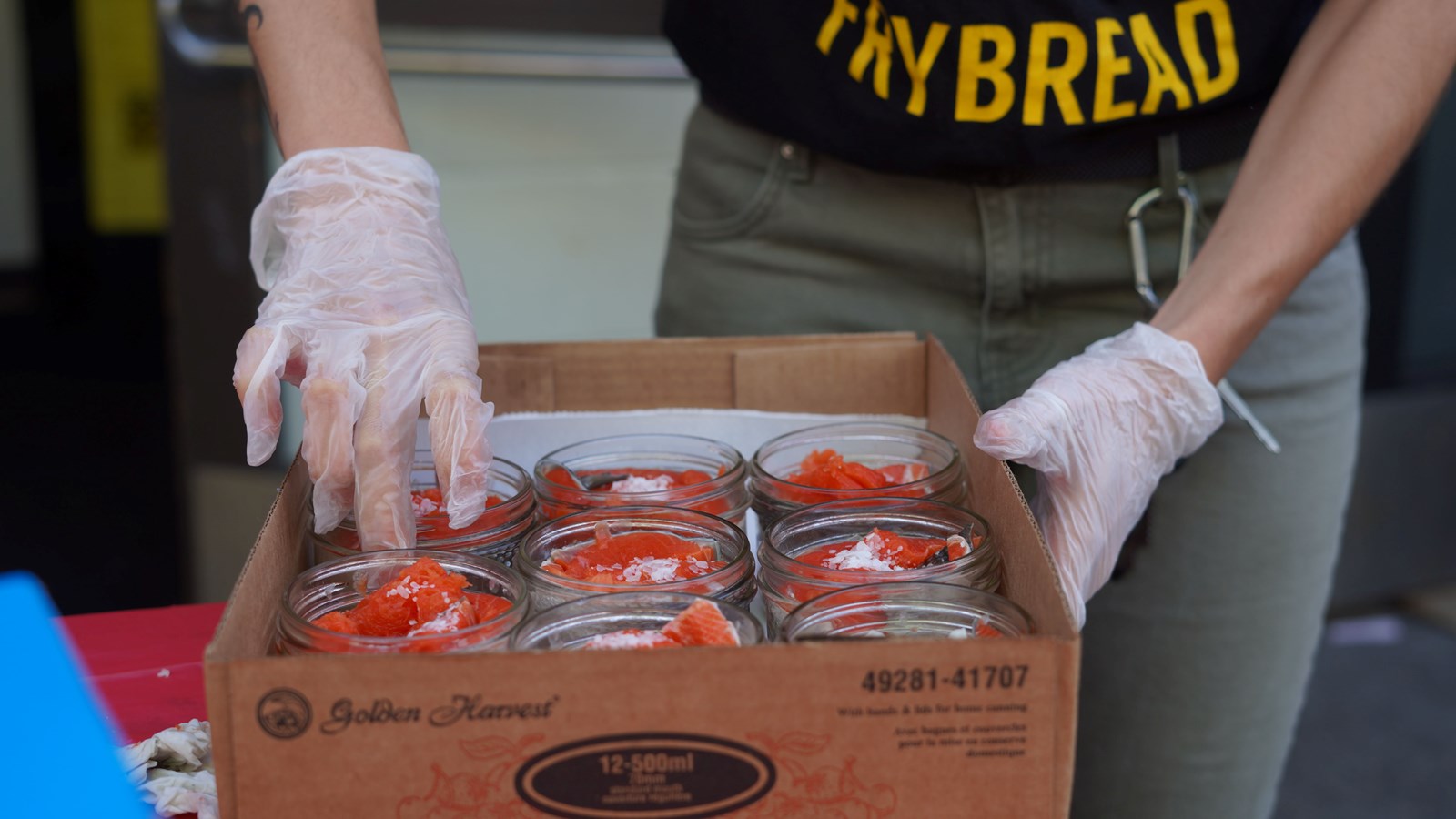 Every summer when Indigenous education teacher Daphne Wale visits her home with the Gitxsan Nation in northern British Columbia, she smokes and jars fish. Oftentimes, she will bring that smoked fish back for her colleagues at Britannia Elementary.
During their daily commute one morning, fellow teacher Elizabeth Costa asked Wale, "Wouldn't it be great if we had a smokehouse here?" According to Wale, that was the seed for what would become "Smokehouse in the City."
Smokehouse in the City was a two-week initiative organized by Wale to share Indigenous ways of smoking fish with VSB students. During two weeks in October, lessons were shared with students about the salmon's significance for Indigenous peoples. Demonstrations of the fish-smoking process were also shared with students. All classes from Britannia Elementary witnessed the smokehouse teachings. Classes from Xpey̓, Seymour and Strathcona also took part in the teachings.
To help with this endeavor, Wale enlisted the assistance of married Elders, Martin and Shona Sparrow, who continue the practice of smoking and jarring salmon on the Musqueam reserve where they currently reside.
"I show my grandchildren the same thing and try to put that culture in them," says Martin. For the Sparrows, it's an honour to share their teachings. Part of those teachings include important lessons in caring for others. "It's a whole community caring about each other and caring about the food. We practice reciprocity. The Elders in our community are fed first. Then we look after ourselves," says Shona.
Like students learned, the traditional Indigenous practice of jarring fish begins with cleaning the fish. After that, the fish is cut and placed into smokers for about an hour to two hours. Then, the fish are transferred into jars and the jars are pressure cooked. Through this careful process, jarred fish can last up to five years. Smoking fish has not only been a cultural practice for Indigenous peoples living along the coast and across Canada, but it has also provided sustenance. Smoking the salmon provides nourishment to coastal Indigenous communities all throughout the year.
This practice is not only significant to Wale personally, but it also embodies the spirit of the First Peoples Principles of Learning and the BC curriculum which emphasize a dedication to teaching authentic Indigenous knowledge, perspectives and content.
"It's our presence and our teachings that are of value. It goes into the heart of every child. Not only Indigenous children," says Wale. "The process has been so wonderful. Having presentations like this is so important… whether it's carving, weaving, canning salmon… it needs to happen in our schools. Every child that walks through needs it."
This year, Wale was able to run this initiative with the help of many educators in and outside the District's Indigenous education department. The Smokehouse also received financial support from Britannia Community Centre. She is hopeful that this will be the first of many more Smokehouses in the City.