New episode of VSB After The Bell: Not-so-new redesigned BC curriculum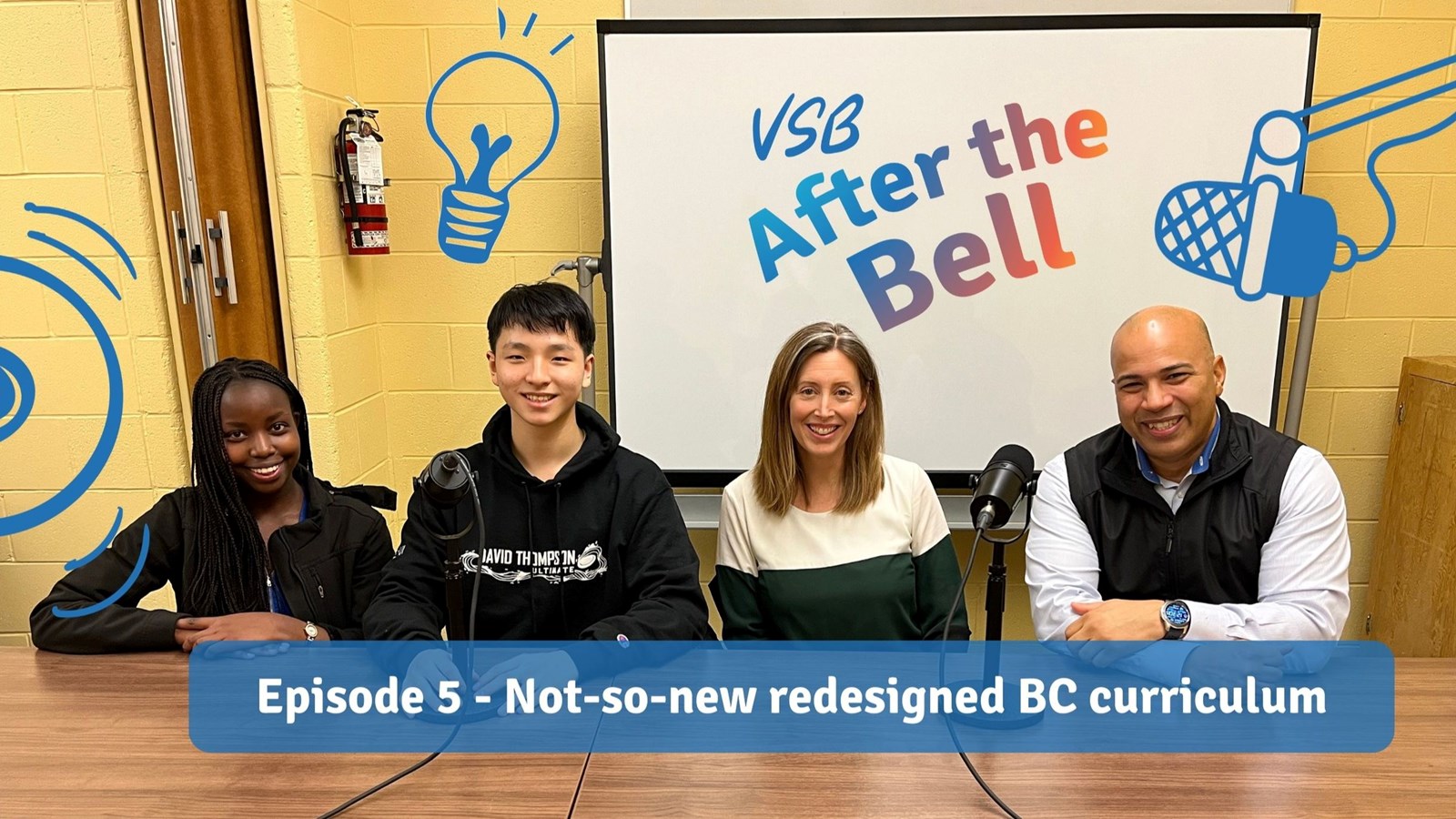 The BC Curriculum was redesigned in 2016 to respond to the technology-rich world we live in today, where communication is instant, and information is immediately accessible. The way we interact with each other personally, socially, and at work has changed and the redesigned curriculum teaches children to respond to this new demanding world.
The way kids learn today is very different than the way their parents learned when they were in school. No longer do we need to memorize the timetable or remember an encyclopedia of facts. There's a calculator and Google for that. The shift in today's education focuses on concepts instead of content, on how to learn rather than what is learned, and on developing critical thinking skills in place of memorization.
This month on the podcast, we speak to Annie Kwong and Nancy Fulton, two secondary teachers, as well as Sandra Fox and Françoise Raunet, two elementary teachers. They walk us though the redesigned curriculum and how students are learning in classrooms.

Annie Kwong and Nancy Fulton, two secondary teachers, as well as Sandra Fox and Fransoise Renne, two elementary teachers
For Matter of the Month, we look into the District's decision to continue the semester model with an increase in Flexible Instructional Time (FIT) for all secondary students. We hear from educators Alison Ogden and Rick Lopez, who are Directors of Instruction, as well as senior secondary students Susan Kiconco and Edison Hui.
Check out the timestamps for reference on key topics:
01:20 – What has changed when comparing the curriculum to its previous version?
03:40 – Examples of how teachers deliver the redesigned curriculum in classrooms
05:56 – How is student progressed tracked at the secondary level?
09:41 – How is student progressed tracked at the elementary level?
12:10 – Have we seen a change since the redesign curriculum was implemented in 2016?
15:11 – Has the redesign curriculum been implemented in other places around the world?
17:15 – Homework... is it tough enough? What is means to guide students on their life-long learning journeys.
21:17 – What are the barriers and challenges faced since the redesigned curriculum was implemented?
23:53 – Matter of the Month: Semester model changes
26:10 – Students' perspectives on the semester model
29:22 – Feedback from the semester model engagement
34:37 – What do students do during their FIT time?