Gladstone Secondary students make bannock tacos at Indigenous culinary workshop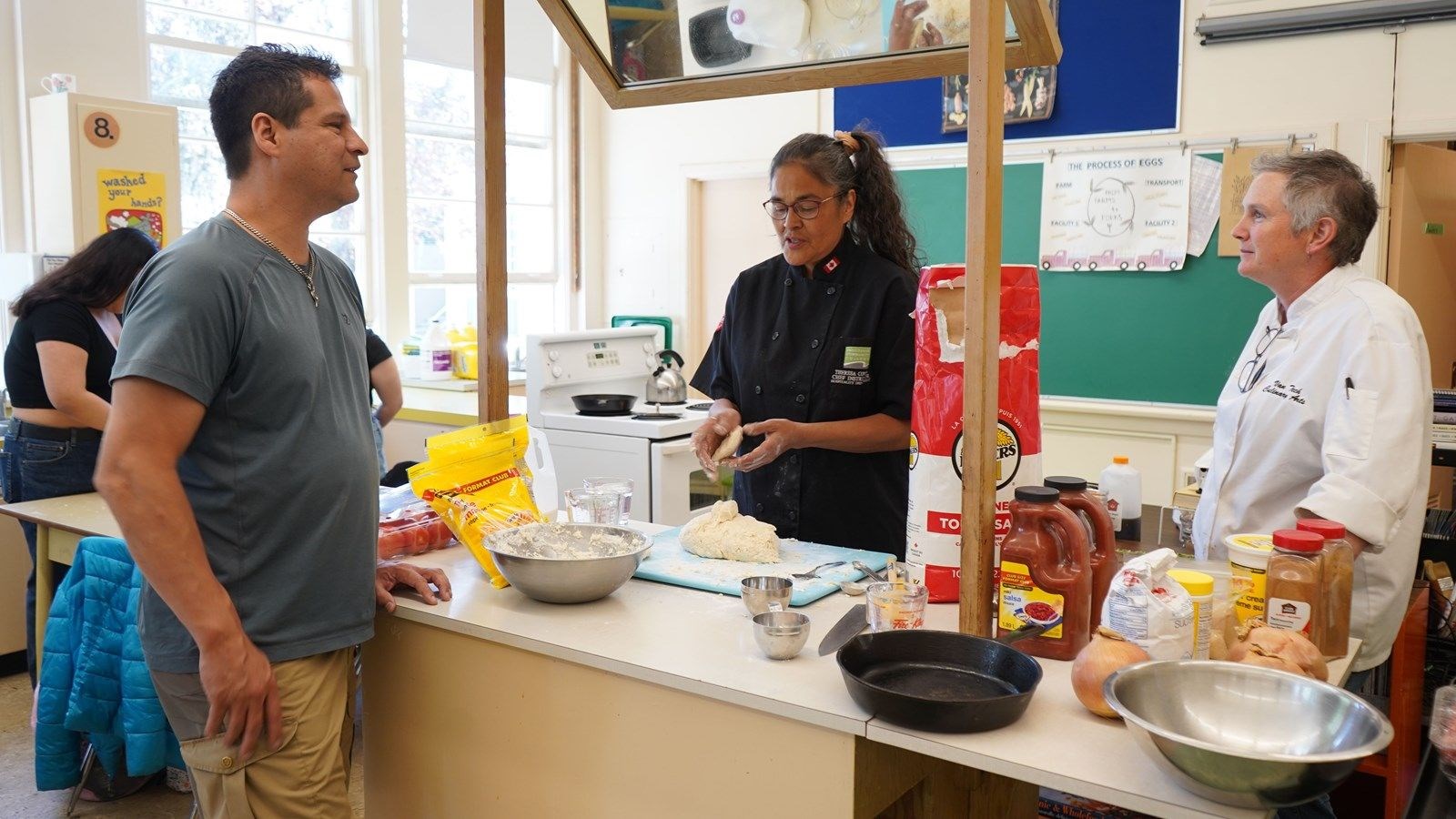 On June 2, 2023, students from Ms. Inglis's foods class at Gladstone Secondary had the pleasure of welcoming Indigenous entrepreneur Theresa Contois. Contois, who is also a culinary arts instructor at Vancouver Community College (VCC), owns her own catering company called Cedar Feast House.
Sharing her culinary expertise with the students, Contois showed the class how to make bannock tacos. Believed to have been brought over to North America by Scottish settlers, bannock is a type of flatbread that has since evolved to incorporate local ingredients of Indigenous communities across Canada and has become an integral part of their cuisine and cultural identity.
The class began with the students gathered in a circle as Contois shared the story of her culinary journey. She highlighted the role her mother, Shirley, played in teaching her to cook as soon as she was old enough to reach the oven. According to Contois, food is medicine. Her catering company not only honours this sacred teaching, but also her mother. Those life lessons proved to be invaluable when she enrolled into the culinary arts program at VCC and won first place in a competition there. She was then hired as an instructor before she even graduated.
"We're also providing opportunities for non-Indigenous students to be involved in these cooking experiences," said Malcolm Key, Indigenous Education Enhancement worker who helped facilitate the workshop. "Hopefully [they'll] gain an appreciation that there's this type of culinary experience that they can be a part of."
During the demonstration, Contois provided tidbits of Indigenous food and culture, including how bannock can vary from tribe to tribe. As an Indigenous person from the prairies, she uses baking powder when making bannock, whereas in places like Haida Gwaii, yeast is commonly used. The recipe Contois shared during Friday's class was passed down from her mother who learned it from her mother.
Once the bannock was baked, the students either pulled it apart with their hands or split it in half with a knife to put the filling, including ground beef, onions, spring mix lettuce, tomatoes, cheese, salsa and sour cream, inside or on top.
When asked about what she likes about Indigenous food, Grade 10 student Vivian Lam, said, "It's something new. I don't usually get to eat it so when I do, it's really good."
Lam's classmate Khoa Ong reflected on Friday's workshop, "I think bannock has a lot of Indigenous history, especially knowing where it came from and knowing that it's been influenced … The stories that the guest chef told us were amazing and I just felt inspired."
The Indigenous culinary workshop series began at Britannia Outreach and was well-received by students there. Gladstone Secondary is the first mainstream school that has facilitated the workshop.