Congratulations to this year's VSB Administrator Recognition Scholarship recipients!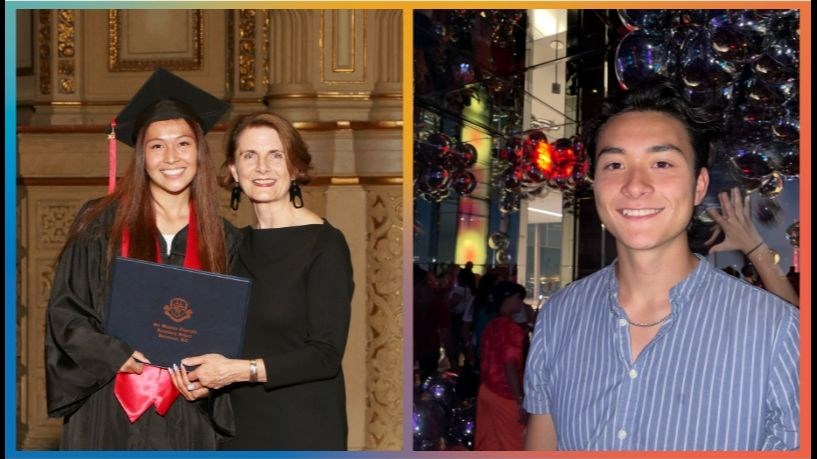 It's scholarship season! This summer, we're celebrating many outstanding achievements by students and staff throughout the Vancouver School District. From scholarship winners to awards and recognitions – many have gone above and beyond this past school year! Today, we highlight two recipients awarded VSB's $2,500 Administrators Recognition Scholarship:
Leona Lam, Grade 12 graduate from Sir Winston Churchill Secondary, was one of two recipients of this year's Administrator Recognition Scholarship. At Churchill, Lam became involved with different extracurricular programs and was the student council president. As president, she worked closely with her school principal, Annette Vey-Chilton, and grew to respect and admire her.
"She does so much for our school and is so humble about it," Lam says about her principal. "She's a woman in power, she's such a good leader and I learned so much from her. I want to be just like her and she's very inspiring."
Lam worked with Mrs. Vey-Chilton on different school events that address issues such as LGBTQ+ Pride, anti-racism and Indigenous reconciliation. Beyond their relationship as school principal and student council president, Mrs. Vey-Chilton also connected with Lam on a unique and individual basis.
Lam feels very honoured to receive the scholarship and plans to attend UBC in the fall to study in the Faculty of Arts. She has always hoped to pursue a career in education. Her focus is on teaching Grade 6 or 7 classes, but her connection with her principal has also made her consider becoming a school-based administrator herself.
Alec Read, Grade 12 student at Kitsilano Secondary, was another recipient of this year's Administrator's Recognition Scholarship. Read's years in secondary school took place during the COVID-19 pandemic, and he credits Kitsilano principal Mrs. Benita Kwon with helping him and his classmates navigate its challenges.
"She gave us a lot of good advice. No matter how hard and different regulations and limitations, she always gave us a glimpse of hope," he says. "And it proved to be right. We ended up having a great last couple years of high school and I think she worked hard on giving us what we wanted by the end."
Read joined several different clubs and sports teams in school and was elected co-chair of the grad council. That gave him the opportunity to work closely with Mrs. Kwon. He realized that she does not fit the stereotype of principals often thought of as being intimidating, unapproachable or dismissive to students.

Read considers the scholarship to be an incredible honour and is very thankful to be chosen as a recipient. In the fall, he plans to pursue a Bachelor of Science degree in the Food, Nutrition and Health program at UBC. His goal is to get into dietetics, nutrition or food science, and he hopes to make the world and everyone's lives a little better by doing so.
Congratulations to this year's VSB Administrator Recognition Scholarship winners Leona Lam and Alec Read! We wish you the very best as you continue your education journeys.