Students of Norquay try out voting with Kids Vote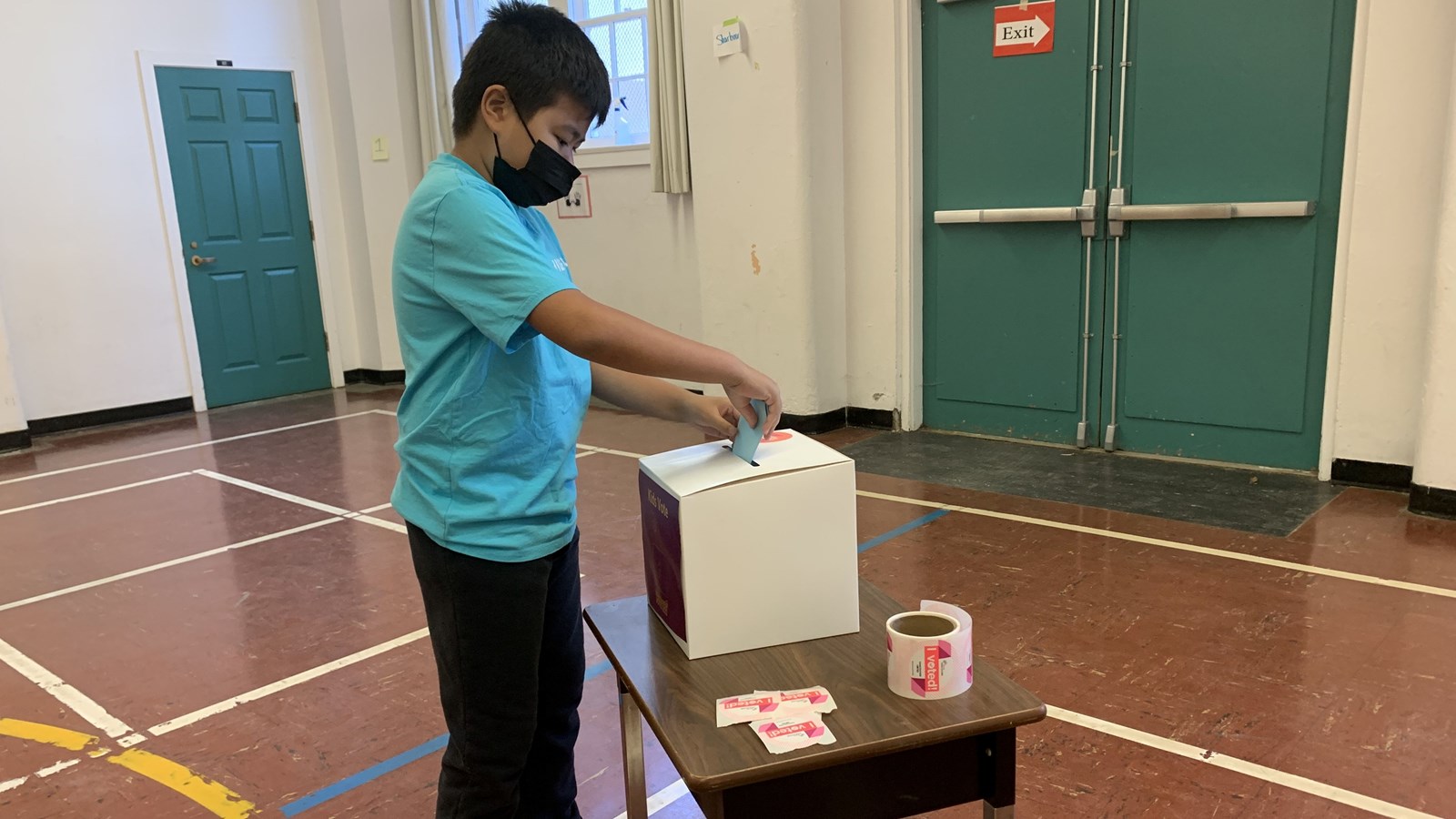 A Grade 6 class from Norquay Elementary School recently had a chance to preview the Kids Vote program delivered by the Vancouver Election Office. Kids Vote encourages youngsters to go to a voting place with their guardian to cast a ballot comprised of questions designed specifically for those 12 years and younger.
On Thursday, September 22, 2022, the class heard from the City of Vancouver's election staff about what local government does, when the election is, and how people might decide who to vote for. Students and city staff engaged in a conversation about the public spaces and amenities they enjoy as well as the activities within the city they regularly do.
After previewing the ballot questions as a group, students headed downstairs to the school's activity room to make their ballot selections behind official voting screens.
For Grade 6 student Maya, the opportunity to learn about how her city functions and how voting can help shape it was both educational and fun. "It was good to have my voice heard," she says. The hardest question for her to answer was the last one which asked, "What is the most important quality in a leader?" According to Maya, all the answers (which included Kindness, Honesty, Creativity and Joy) looked important, so it was difficult to choose just one. In the end, she went with "Honesty" as her final selection.
Gary Loong, teacher of the Grade 6 class at Norquay believes that participating in a hands-on activity helps students learn. "Kids Vote introduces students to concepts that are important to their understanding of a healthy democracy in a way that is engaging for them. Part of B.C.'s curriculum includes helping students develop the knowledge and competencies to be active, informed citizens who can think critically," Loong says. "Learning about voting and its importance also equips students to have discussions about civic engagement with their families, something I think is very important."
All VSB students 12 years and younger are invited to take part in Kids Vote on Saturday, October 1 and Saturday, October 8 at all advance voting locations.
Educators of intermediate and secondary school students are encouraged to participate in the Student Vote program through CIVIX. Participating schools receive free learning resources and election supplies. After learning about the election, students cast ballots for the official candidates. This program is a great way to spark conversations about community topics and develop the habits of active and informed citizenship among students. Student Vote is intended for those in grades 4 to 12. Schools are encouraged to register at studentvote.ca.
Results from Kids Vote and Student Vote will be released on Saturday, October 15, before the unofficial results of Vancouver's civic election.
Learn more about the civic election, including about trustee elections.