Celebrating Support Workers on Support Staff Recognition Day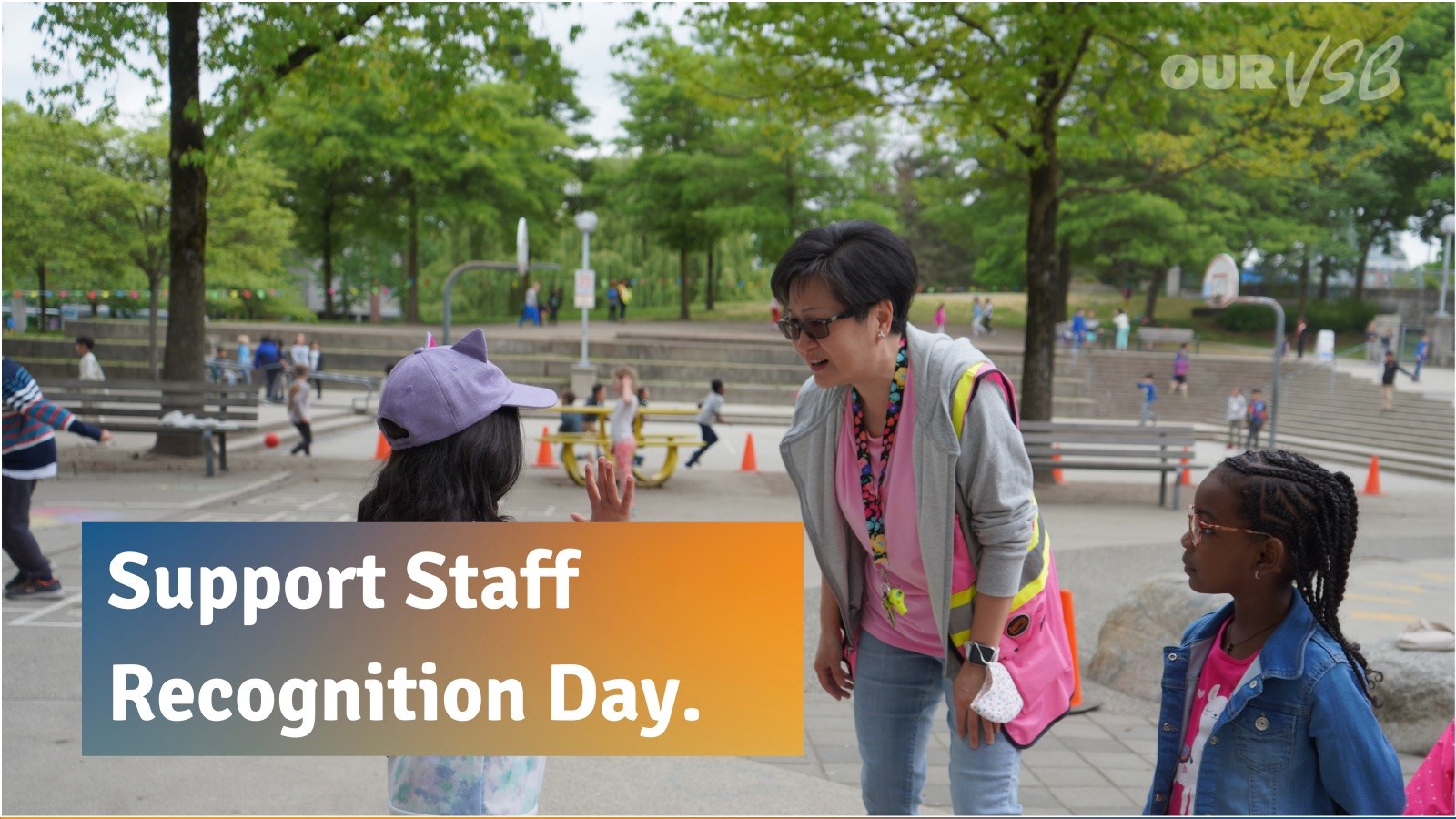 Today, we take time to celebrate the incredible support staff members who play a vital role in the success of our schools. From education assistants to custodians, their dedication and passion for their work have a profound impact on students' lives. They are the unsung heroes and often work behind the scenes providing invaluable contributions and inspiring stories.
Magali Duchemin, a Francophone Education Assistant at Jules Quesnel Elementary, succinctly captures the essence of their work, saying, "What I love most about my job is that I make a difference for the students, I give them the strategies and capabilities to be able to function in the school."
Malcolm Key, an Indigenous Education Enhancement Worker, emphasizes the transformative power of education, particularly through outdoor activities. He believes that these experiences help students discover their potential, saying, "It's an opportunity for students to go above and beyond what they probably perceived was their capacity. And that's where they get real insight into what they're capable of achieving."
Michael Lemaire, the Head Custodian at General Brock Elementary School, brings a sense of joy to his role. He shares how the young students' enthusiasm brightens his day: "You can be having an off day, and one of the students in kindergarten or Grades 1 or 2 will come up and tell you all about something exciting - just being the way they are - and it just brightens your day. It really does keep you young."
Susan Wong, a supervision aide at Crosstown Elementary, reflects on the fulfillment her job brings, saying, "The feeling of being wanted, doing the job well, and being appreciated by the principal and the staff is very rewarding."
Henry Chow, a trades worker in VSB's carpentry department, highlights the challenges and creativity that come with his role. He expresses his love for the job by saying, "Not every job is the same. I get to use my brain and my creativity to solve a problem in a timely and safe manner." The commitment of VSB's support staff to ensuring the safety and functionality of school facilities is indispensable.
In recognition of their invaluable contributions, VSB awards two $2,500 scholarships each year. Last school year, one of the recipients was Alberta Crysler-Hill, a graduate from Gladstone Secondary. She credits Indigenous Educator Pat Forrest with enriching her school experience as an Indigenous student, "without Pat, I truly believe I would not be the person I am today."
The Support Workers' Recognition Scholarship is a testament to the profound influence of support staff on students' lives. It shows VSB's appreciation for their commitment and dedication to the education community.
On Support Staff Recognition Day, we come together to celebrate the incredible individuals who work tirelessly to create a nurturing and supportive environment for our students. Thank you to all the support staff members who make a difference in the lives of our students every day. Your dedication and passion do not go unnoticed, and we are deeply grateful for everything you do. Happy Support Staff Recognition Day!