Education Assistant Diploma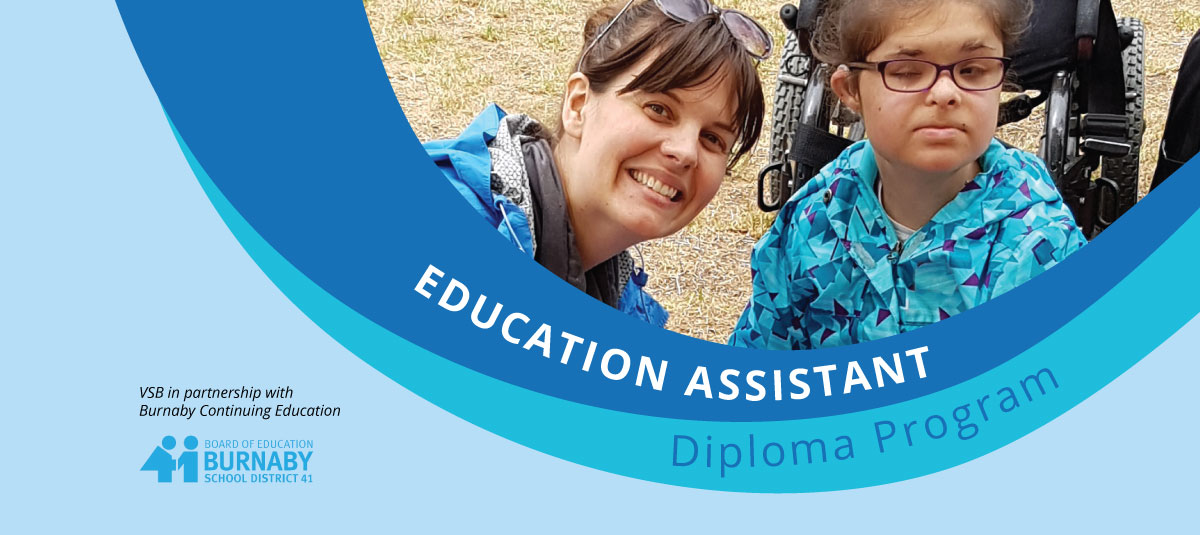 Are you looking for a career in the FIELD OF EDUCATION?
Education Assistants (EA) work collaboratively with teachers and other professionals to support students with exceptional learning needs. Consider becoming part of an educational team who are committed to creating inclusive learning experiences.
Our Education Assistant program will give you the knowledge and skills for employment in public and private schools, child care centres, and community drop in centres.
FUTURE EMPLOYMENT
Qualified Education Assistants are currently in high demand in school districts including the Vancouver School District. Graduates are welcome to apply for a job upon graduation.
PROGRAM CURRICULUM
Our Education Assistant program includes classroom theory, clinical instruction as well as supervised practicums in a school setting. This 6-month EA program prepares students to provide academic support, personal care, social-emotional support, physical support, and behaviour support to students with special needs from Kindergarten to Grade 12 in school settings. Strong English proficiency at a minimum of English 12 is required. Experience working with students with special needs in a public-school setting is recommended. Practicums are arranged by the program and provided at VSB schools.
NEXT PROGRAM
Applications closed.
Dates:

October 13, 2023-April 30, 2024
Location: Garibaldi Annex, 1025 Slocan Street, Vancouver
Tuition: $5,500.00
UPCOMING INFORMATION SESSIONS
VSB Education Assistant Program Online Information Sessions
December 7, 2023
January 16, 2024
February 8, 2024
March 7, 2024
Register online with Burnaby CCE to receive a ZOOM invite for a preferred session.
To register for an information session, visit:
www.burnabycce.ca/free-information-sessions
REGISTRATION
Submit your application form at: http://www.burnabycce.ca/courses/education-assistant-diploma/
For more information, visit: Burnaby Continuing Education website

This is a joint partnership program between the Vancouver School District and with the Burnaby School District's Community and Continuing Education.