Indigenous Enhancement Agreement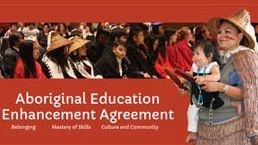 The Vancouver Board of Education, the Aboriginal Communities and the Ministry of Education continue to work together to improve the educational experiences for Indigenous students.
Together we have created the Aboriginal Education Enhancement Agreement - 2016 to 2021 that embodies the shared visions and commitment of all participating parties to the success of Indigenous students in the following areas:
Belonging
Mastery of skills
Culture and community
As well, students have the opportunity to obtain additional support provided by the district's Indigenous Programs and Services . Indigenous Program and Services are delivered to enhance the student's educational experiences which align with the above stated goal areas of the Aboriginal Education Enhancement Agreement.
The programs and services are available throughout the school year to elementary, secondary and alternative program students for who have identified or have had parent/guardians identify them as having Aboriginal ancestry (First Nations, status and non-status, Métis, and Inuit) on the school registration form.
The Vancouver Board of Education offers these additional services in a variety of ways:
Support services provided by an Indigenous Education Enhancement Worker or Indigenous Education Enhancement Teacher, which may include cultural, academic, social and emotional support, parent liaison and advocacy
District-wide cultural projects, resources, leadership opportunities, and celebrations
School based cultural programs and/or courses
All VSB students participate in a variety of cultural projects offered throughout the district.Here is a list of events.
Aboriginal Education Enhancement Agreement