Legacy Carving Project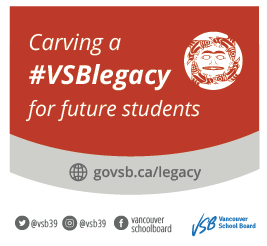 In honour of truth and reconciliation, the District partnered with local Indigenous artists to bring one 44-foot Reconciliation Pole and two Welcome Figures to the Education Centre.  A collection of three poles together is a national first for a public school.

Recognizing that the District is on the traditional unceded territory of Indigenous land, we wanted to acknowledge the important role the Indigenous culture plays by installing these three poles. Carved out of 300 to 500 year-old cedar logs, the poles are a reminder of the District's connection to the First peoples, the Musqueam nation whose unceded lands the Education Centre resides as well as, the surrounding nations of the Tsleil-Waututh and Squamish Coast Salish peoples and the urban indigenous community.
On June 21, 2019, on National Indigenous Peoples Day, the District publicly unveiled the Reconciliation Pole and two Welcome Figures. Visitors had the opportunity to witness the unveiling ceremony and cultural teachings of Indigenous drummers and singers.
We're carving a legacy for current and future VSB students #VSBLegacy