School Streets Program - begins May 8 until June 2
Beginning Monday, May 8, 2023, we will be launching the School Streets pilot program at Sir Winston Churchill Secondary for a four-week period to help improve safety and
encourage active travel to and from our school. A School Street is a car-free block adjacent to a school open to walking, biking and rolling during school pick-up and drop-off times.
The School Streets program will be in effect from:
• Date: May 8, 2023 to June 2, 2023 (4 weeks), all school days
• Location: Heather St between W 54th Ave and W 57th Ave (see attached diagram)
• Time: 8:20 - 8:50 AM and 2:40 - 3:20 PM
Please note the school has a varied schedule the week of May 8 – May 12, 2023 and therefore School Street times will be as follows:
• Monday, May 8: 8:20 – 8:50 AM and 2:40 - 3:20 PM
• Tuesday, May 9: 8:20 – 8:50 AM and 2:40 - 3:20 PM
• Wednesday, May 10: 9:50 - 10:20 AM and 2:40 - 3:20 PM
• Thursday, May 11: 8:20 - 8:50 AM and 1:40 - 2:20 PM
• Friday, May 12: No School Street
Motor Vehicle Access:
• Entry & Exit: Motor vehicles will not be permitted to enter or exit the street while the School Street is in effect. Please consider changing where you park if you need to leave during the times listed above. Exceptions will be made for emergencies. Please seek volunteer assistance when exiting.
• Parking: There are no changes to parking regulations on the street. Vehicles may remain parked while the School Street is in effect.
• Please note that the City of Vancouver will be conducting Sewer Upgrades / Green Infrastructure project on W 54th Ave from Neal St to Cambie St f rom May 15th, 2023 to
November 2023. Please take this into consideration when planning your route to and from school.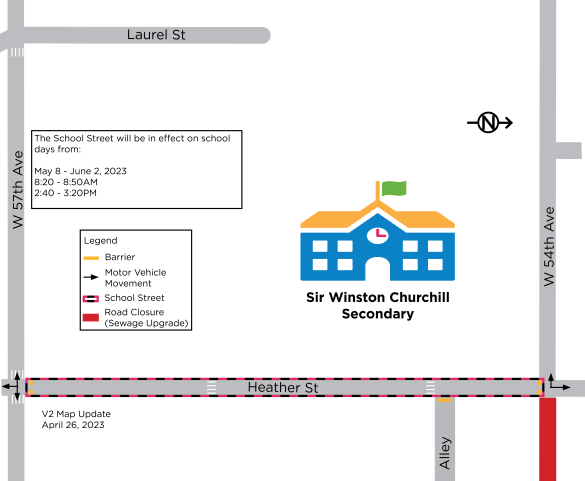 Volunteers Needed!
• Volunteers are needed to make this program a success! Volunteer shifts are 45 minutes long and involve setting up, monitoring and taking down the School Street barriers to ensure safety on the street. Shifts are available in the morning and afternoon every school day. Volunteers will be asked to attend a training session on Wednesday, May 3 from 6:30-7:30pm at the school.
• Training materials will be sent to anyone who is unable to attend the session.
Interested in signing up or learning more? Visit: volunteersignup.org/M7JF3
If you have questions about volunteering please e-mail Anita Chui, our School Streets Parent Volunteer Coordinator at churchillpac@gmail.com
Need to drive?
Our school encourages all students, who can, to get to and from school in active ways. There are many physical and mental health benefits for students walking, cycling, or rolling to school; however, we also understand that some parents need to drive their children. We urge parents who can, to determine safe locations about a five-minute walk (or a few blocks away) from the school where they can drop-off and pick up their children before and after school. Please continue to follow the parking signage and park only in designated areas (see parking map attached).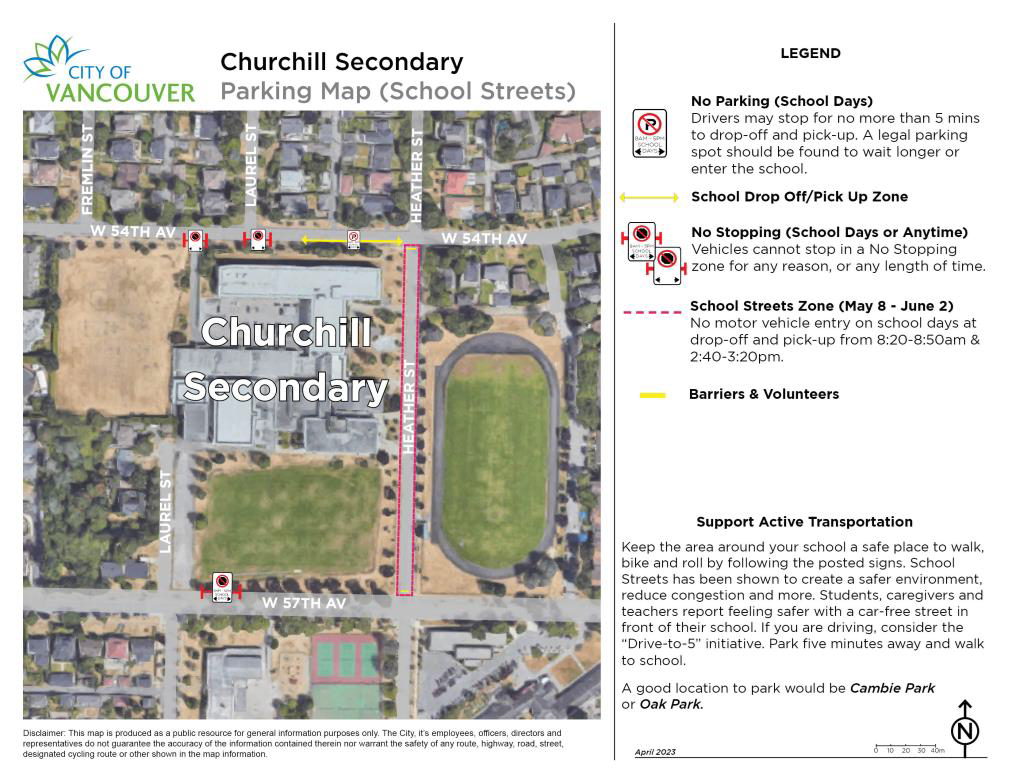 Accessibility
Additional parking spaces may be provided for families with accessibility needs. Please reach out to me directly if you have accessibility needs and I will update you on this. We'd also like to remind parents/guardians to avoid using the north side of Laurel St at West 57th Ave as a pick-up/drop-off spot.
Questions/Feedback
If you have questions about the program please reach out to the City of Vancouver by emailing SchoolActiveTravel@vancouver.ca, connecting through Online Services in the Van311 app, or by calling 3-1-1. More information can also be found at www.vancouver.ca/School-Streets Parents will be invited to provide feedback through a parent survey sent at the end of the program.
Thank you for supporting this new initiative at Sir Winston Churchill!