Celebrating Lunar New Year at Trafalgar Elementary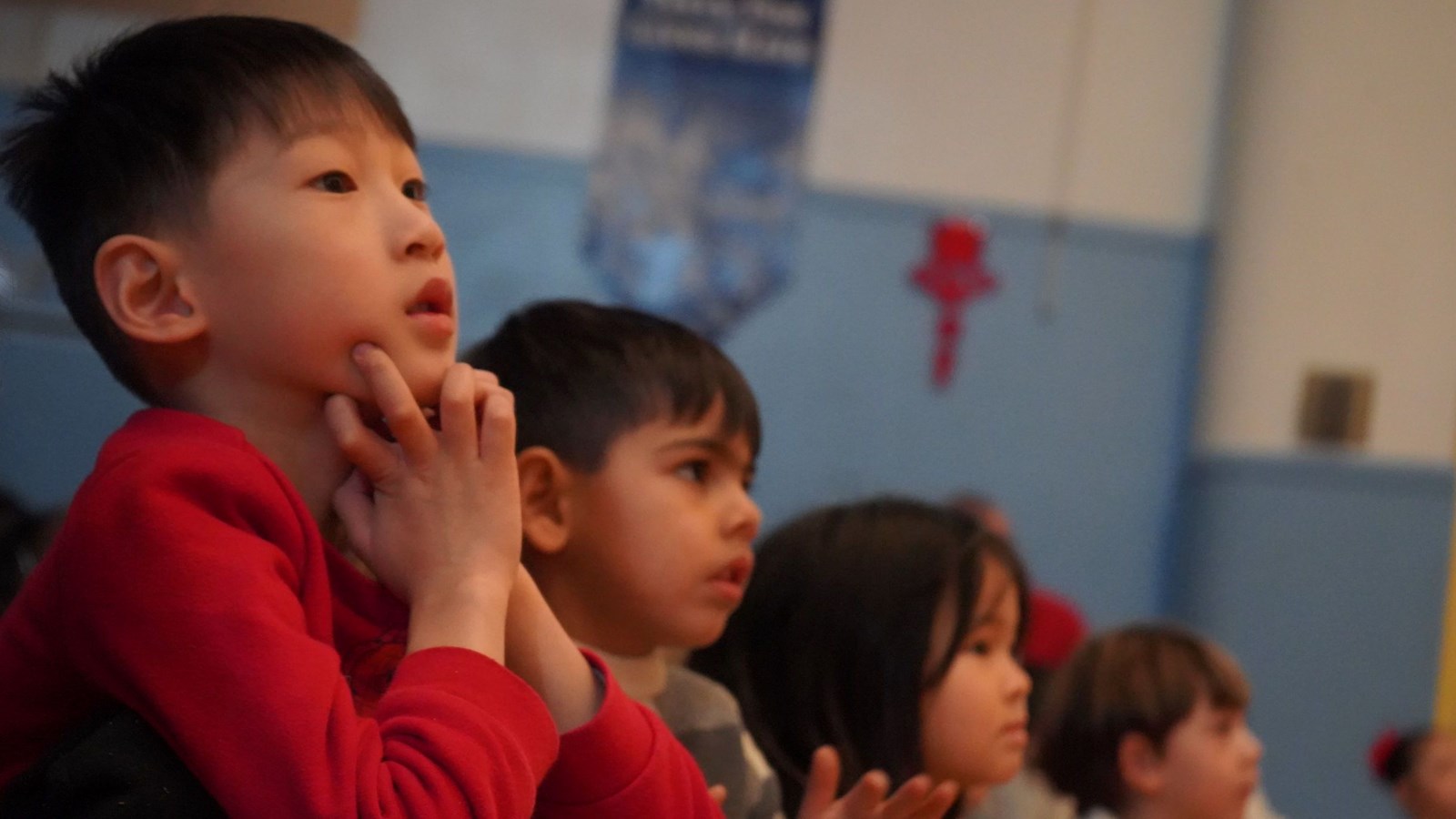 On Friday, January 20, 2023, Trafalgar Elementary School hosted its annual Spring Festival to celebrate Lunar New Year with the school community.
Lunar New Year is popularly known as Spring Festival in China because it marks the end of winter and the beginning of spring according to the lunar calendar, which follows the cycles of the moon.
"For many Asian countries, Lunar New Year is the biggest celebration of the year. It can be seen as the equivalent of Christmas for North America," said Trafalgar PAC Co-Chair Vivian Wan. "Celebrations for lunar new year are extravagant and breathtaking, and that was evident as part of the spring festival at Trafalgar."
Organized and sponsored by the Trafalgar PAC, the festival included a lineup of showstopping performances that embodied the spirit and diversity of the school. It was a full school production that included students, staff and even caregivers. Performances included:
The Trafalgar band majestically playing a Chinese folk song
A group of Trafalgar students performing a choreographed hip-hop dance
A group of Trafalgar moms that got the crowd moving to their choreographed aerobic moves
Fang Fang, a Trafalgar mom showing off her pipes and singing a traditional Chinese song
Yuri Minami, a Trafalgar mom singing one of the original Pokémon songs in Japanese while giving pokéballs to some lucky audience members
Grade 6 Trafalgar student, Daniel Lin, getting the entire school community hyped up to sing "Never Gonna Give You Up" by Rick Astley
Trafalgar choir harmonizing to "Auld Lang Syne"
There were also professional performers that dazzled the crowd with a ballet solo, traditional Chinese dance, Tangu (Chinese drum) dance, zither solo (an instrument originally from China and sounds like a blend of the harp and piano) and magic show.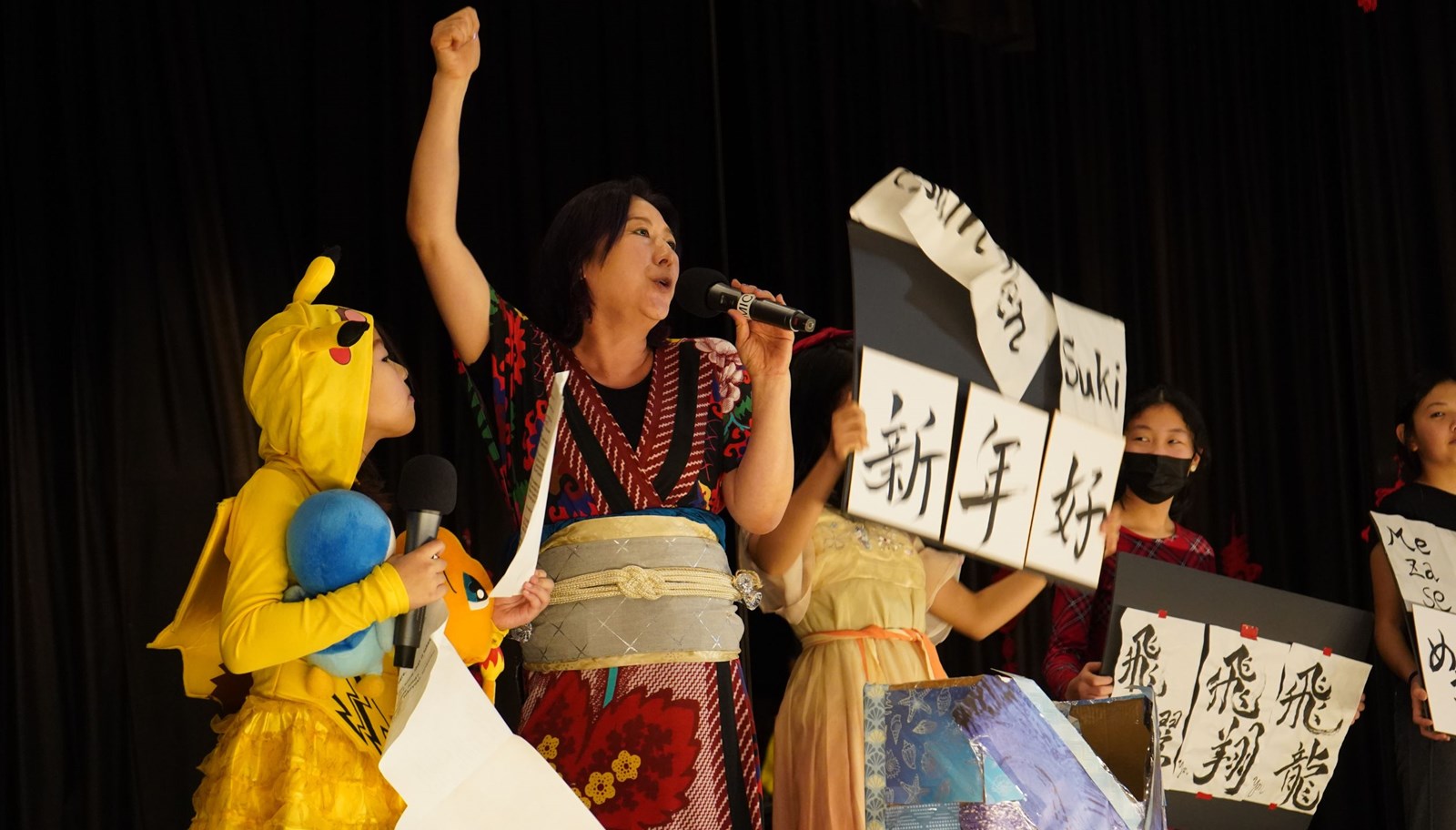 Trafalgar mom singing Pokémon songs"For me, it's important to be part of the celebrations because it brings energy to the students—to see your mom participate in school activities," says Michelle Xue, mom of a grade 3 Trafalgar student and one of the aerobic dancers.
Between each performance, a different Trafalgar student explained to the school how they celebrate the new year at home. From Ukraine to Vietnam, Poland to Korea as well as Brazil, Japan and China, students were able to learn about the unique traditions each culture offers.
Marcus, Callum and Emma, grade 6 Trafalgar students and Emcees of the Spring Festival spent one month rehearsing for the event. Although the students were nervous to be on stage, they were grateful to learn about so many other traditions that exist in their school.
"About 20 per cent of our student population is of Asian decent, so it means a lot to me, as a Chinese person to be able to lead an event that celebrates a very important part of my culture," said Snow Qui, PAC executive and the main organizer behind the event. "The event really shows how our school is warm, caring and an inclusive community."
To me, the most significant part of this event is that it brings the entire school together," said Daniel Belanger, Trafalgar Principal. "We get to see the diverse culture around the school and the different new year traditions each country brings."
Thank you to the teachers, parent volunteers and most importantly the PAC Executive team for organizing a spectacular event that will forever be remembered by the Trafalgar school community.