More than a job – a way to share his love of nature: Malcolm Key on being an Indigenous Education Enhancement Worker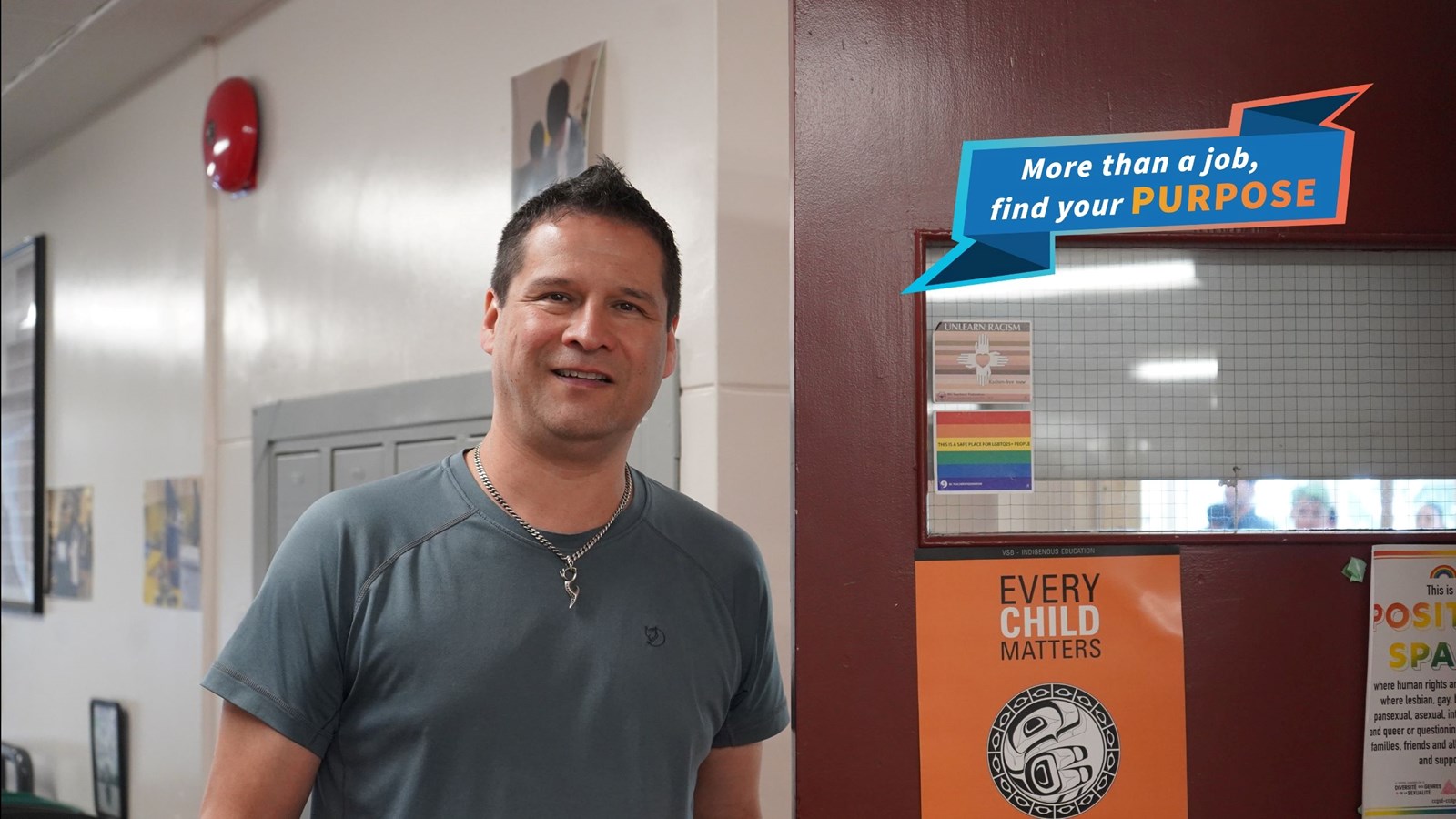 As a life-long outdoor enthusiast, Malcolm Key says part of his role as an Indigenous Education Enhancement Worker at VSB is helping students connect with nature and build communities.
Working with the Outreach Program at Britannia, Total Education and East Vancouver Education Centre, Malcolm's primary role is assisting Indigenous students – and their families – navigate the school system and get the most out of it. He also helps them develop life skills and acts as a role model for them. He believes that one of the ways in achieving those aims is through outdoor educational programs, something he is passionate about.
"Designing, developing, and implementing outdoor educational programs through an Indigenous lens is part of what I am focusing on with the support of the department team and the VSB," Malcolm says. "They've given me the flexibility to bring some initiatives to the table and supported me in getting them into the program."
One of the initiatives Malcolm is working on is developing a garden program so that students can learn more about Indigenous plants, and their nutritional and medicinal values. It will also serve as a meditative space for students – a place where they will feel grounded and part of a community.
Malcolm is also working with Outward Bound Canada on developing experiential opportunities, such as camping and canoe trips. He says there is much work needed to building capacity and creating an internal team to support these initiatives and implement them with schools and teachers.
"There are so many opportunities in outdoor education for personal development and resilience building," Malcolm says. "It's an opportunity for students to go above and beyond what they probably perceived was their capacity. And that's where they get real insight into what they're capable of achieving. I think that if you can build up their self-esteem and sense of worth, and ignite that motivation and passion for learning, then it will bring success in their academics in school."
Malcolm speaks from experience. He is from the Anishinaabe Nation in Northern Ontario and grew up beside Algonquin Park. He spent most of his early 20s guiding canoe trips in the park, employed through youth camps or outdoor centres.
"That experience spurred me into getting a post-secondary education, with the vision of eventually being an outdoor instructor," he says. "I believe the programs we're working on utilize a sense of community development by achieving common goals. And that's good for everyone."
Explore Indigenous Education roles at the VSB:
Indigenous Education Enhancement Worker (SSB-IEEW)
More than a job, find your purpose at the VSB with positions in education, trades, office admin and more. Explore job postings here.