French Immersion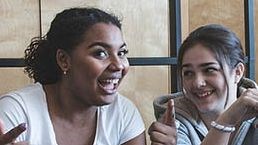 French Immersion Grade 8-12
The secondary component of the French Immersion program provides students with the opportunity to continue their studies and the development of higher level thinking and verbal skills in their second language.
In addition to the provincial "Dogwood" certificate, successful graduates of the French Immersion program receive a Bilingual Graduation Certificate at the end of Grade 12.
Churchill Secondary
Kitsilano Secondary
Van Tech Secondary
7055 Heather St.
Vancouver, BC V6P 3P7
Tel: 604-713-8189
Grade 7 Info session
Tues, Jan 17, 2023
7pm Auditorium

2706 Trafalgar St.

Vancouver, BC V6K 2J6

Tel: 604-713-8961

Grade 7 Info session

Wed, Jan 18, 2023

2600 E. Broadway

Vancouver, BC V6M 1Y5

Tel: 604-713-8215

Grade 7 Info session

Thurs, Jan 26, 2023
6pm Virtual Meeting
Please contact the school for further details on information sessions.
The Early Immersion program provides at least one-half of the school day in French-language study for the full seven years of the Intermediate Program (grades 4-10). The subjects taught in grades 8-10 are a natural continuation of the child's elementary experience allowing students to maintain and extend their expertise in French in a way they cannot do in other programs.
The Late French Immersion students take an identical program of studies in the secondary years as their Early Immersion counterparts. Beginning in grade 11, the amount of time in French is further reduced by one-half. This arrangement enables the students to pursue specialized courses to meet post-secondary requirements. Then, in grade 12, a further reduction in time spent in French occurs. Français 12 permits the Immersion students to maintain their French proficiency in their final year of school. This is illustrated on the following table.
Grade 8
Grade 9
Grade 10
Grade 11
Grade 12
Français
Français
Français
Français
Français
Sciences
humaines
Sciences
humaines
Sciences
humaines
Sciences
humaines


Sciences
Sciences
Sciences




A fourth course is required in Grades 8 through 10 (varies with school).
To locate your Secondary French Immersion catchment school, please go to: School Locator (link)
Secondary Immersion Schools
Criteria for admission
Completion of an elementary French Immersion program (or its equivalent if transferring from another district, province or country).
Learn more about our French immersion program for elementary students