Adult Ed to help newcomer expand her language abilities
"I'm attending Adult Education to expand my language abilities"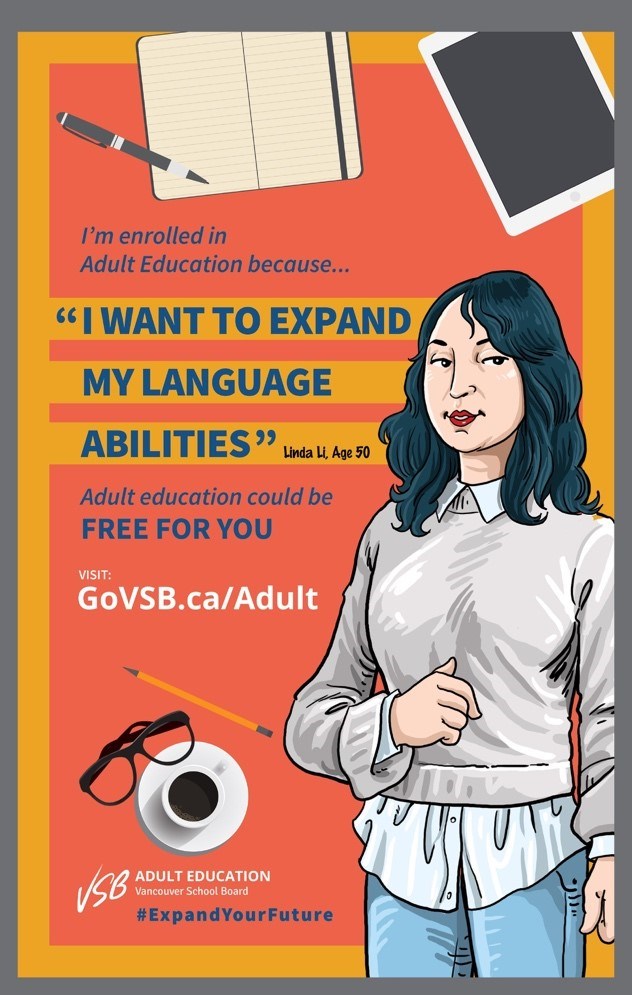 Many students in the Vancouver School District come from very diverse backgrounds. Whether they are new to Canada and want to learn English or just need to upgrade their education, each student has big hopes for the future. Linda Li is an Adult Education student and has been studying English Foundations for a year at South Hill Secondary. Before moving to Canada, Linda worked as a financial analyst for over fifteen years.
"As an immigrant, English is very important because I enjoy the society and want to do something for Canada, so English is very important. South Hill Education Centre gave me a chance and it's been very good," said Linda.
Upon moving to Canada, the language barrier has the biggest struggle. Regardless of these barriers, Linda is continuing to work on her goals to be able to speak English fluently, and to write well-structured academic sentences. After one year in the Adult Education program, Linda is continuing to work on her English skills, so that she will be able to further her education.
"I want to continue studying English and further [my] education. I want to upgrade my language abilities, so I can do more volunteer jobs for society. I want to upgrade myself," Linda adds.
Whatever your reason for pursuing education, it is never too late to find your unique pathway to success. Are you looking to upgrade your education? Check out govsb.ca/adult for more information.