Traffic Management
Supporting Information
Walk+Bike+Roll Safety Tips Poster
September 2023
Speed reduction pilot for some collector and arterial streets, paint markings done over summer 2023.
Crosswalk installed at Windsor St. and 39th Ave. adjacent to Mackenzie Elementary.
April 2023
RFB request studied by City at Kitchener Elementary (Blenheim St. and 24th Ave.). RFB determined not to be warranted at this time.
Additional pick up and drop off space allocated at Norquay Elementary.
March 2023
February 2023
Walk Bike Roll Mini Grants distributed.
Knight St. and 49th Ave. pedestrian recall signage installed at intersection for Fleming Elementary.
January 2023
Pick up and drop off signage installed along Wallace St. for Byng Secondary.
October 2022
Bus zone parking signage installed at Tupper Secondary on 23rd Ave. to support school programming.
September 2022
August 2022
Crosswalk installed for Tennyson Elementary at Maple St. and 10th Ave.
July 2022
Crosswalk installed for Fleming Elementary at Lanark St. and 47th Ave.
March 2022
Sexsmith Elementary joins school patrol program.
January 2022
Van Horne (2020-21) Hastings (2021-22) and Nightingale (2021-22) received funding through the BC Healthy Communities Active School Travel Pilot Program Grant. PACs can refer to this site for potential future application information.
VPD and Parking Enforcement attended to ongoing traffic safety concerns at Ecole Jules Quesnel.
Raised crosswalk installed at Lakewood Dr. and 10th Ave. near Secord Elementary.
Crosswalks installed at both Larch St. and 10th Ave. and Trafalgar St. and 11th Ave. near Kitsilano Secondary.
Speed check completed at Prince of Wales Secondary.
Signage adjustments made at Grenfell Elementary.
Rapid Flashing beacons being planned and installed at Nootka St. and 27th Ave. near Windermere, and Rupert St. and Anzio Dr. near Renfrew Elementary.
September 2021
Crosswalk installation near Kingsford-Smith at 53rd Ave. and Nanaimo St.
Drop ramp improvements near Nelson Elementary at Charles St. and Garden Dr.
Annual school safety patrol training with 19 participating elementary schools and 645 student volunteer patrollers.
August 2021
Community members can sign up online to receive notifications from the ongoing Broadway Subway Project. Construction activity and traffic pattern changes will continue throughout the project.
The School Streets pilot project is being extended for the duration of the 2021-22 school year. This will continue at the same three schools as were in the pilot (Hastings, Roberts, and Van Horne), with the possibility to expand the program to other schools sometime during the 2021-22 school year.
Updates on City infrastructure improvements around VSB schools:

Crosswalk improvements at Fraser (x2 which includes a raised crosswalk), Dickens (x2), Mackenzie, Trafalgar, Tecumseh (x2), Mount Pleasant (x2), Gladstone, Franklin.
Speed humps installed at Trafalgar, Magee/Maple Grove, Roberts, Seymour, Nootka, Weir, Waverley, MacCorkindale.
Curb ramps installed at McBride, Tecumseh, Franklin, Kerrisdale Annex, Gladstone, Dickens, Kitsilano.
Curb bulges installed at Franklin, Fraser, Tecumseh, Tillicum Annex, Tecumseh Annex, and Windermere.
Rectangular Rapid Flashing Beacons (RRFB) installed at Windermere and RRFB upgraded at Grandview.
June 2021
Pedestrian Safety Talks (ongoing)
The Vancouver Police Department offers schools the ongoing opportunity to book a pedestrian safety talks where a community traffic constable can present on road and pedestrian safety to students.
The primary goal is to reduce the number of pedestrians involved in collisions, keeping the students safe while travelling to and from school.


Each pedestrian safety talk will be about 20 min in length.

This is a well-established initiative of the VPD, and is free for schools to participate.

The pedestrian safety talks can be held in a larger open area within the school, or outside if weather permits.

Participation is voluntary, and the talks can also be booked any time.
If you would like to book a pedestrian safety talk, please contact crest@vpd.ca
Further information on pedestrian safety can be found at the VPD website
May 2021
Application Deadline: June 30, 2021
Schools Notified: Sep 15, 2021
Project Delivery: Sep 15, 2021 - Dec 31, 2021
Mini grants of up to $500 are available to Vancouver public schools through the City of Vancouver School Active Travel Planning program. Grants support projects and activities that encourage and promote students walking, cycling, or rolling (wheelchair, skateboard, or scooter) to school. Schools can choose to link their activities to existing events or implement their own project.
Schools are encouraged to reach out to the City of Vancouver staff to discuss their project and seek support before submitting a grant at SchoolActiveTravel@vancouver.ca.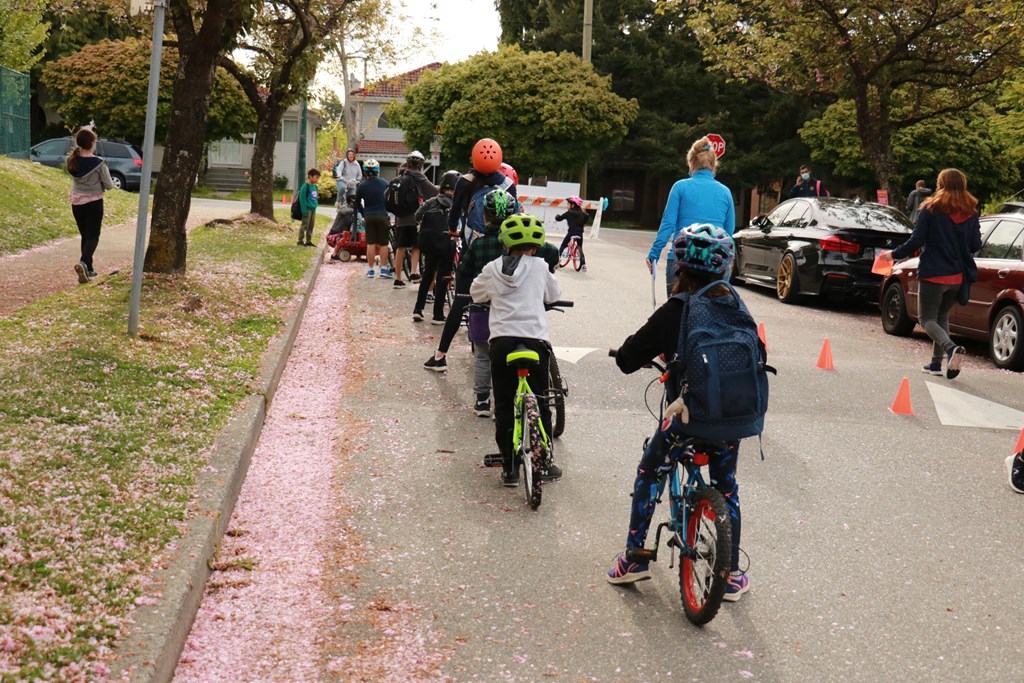 April 2021
Crosswalk re-painting planned for summer 2021 at the intersection of Crown St. and 14th Ave.
New crosswalk painting being considered for crossing Trafalgar St. at 11th Ave. as well as for crossing 10th Ave. at Larch St. These intersections are adjacent to Kitsilano Secondary and plans are to install these crossings over summer 2021.
City of Vancouver School Streets initiative was piloted at Roberts Elementary, Hastings Elementary, and Van Horne Elementary, beginning April 12, 2021.
March 2021
Van Horne Elementary School Active Travel Planning Program virtual walkabout (March 3, 2021)
Maple Grove Elementary bus zone signage changes installed for temporary accommodation use at that site.
Kingsford Smith Elementary meeting with City staff and school community to discuss traffic safety concerns (March 1, 2021). There is a plan to pilot a leading pedestrian interval (see further detail here and here) at the intersection of Elliot St. and 54th Ave. The leading pedestrian interval will be installed April 22, 2021.
Lord Tennyson Elementary street parking signage updated following opening of new school building.
Review of pedestrian crossing time at Manitoba St. and 12th Ave. found that crossing time is at the longest it can be, considering the width of the roadway.
February 2021
Left turn restriction installed at Tisdall St. and 49th Ave. adjacent to Jamieson Elementary (February 11, 2021)
McBride Elementary School Active Travel Planning Program virtual walkabout (February 16, 2021)
VPD pedestrian safety talks at Shaughnessy Elementary
January 2021
Jamieson Elementary meeting with City staff and school community to follow up on traffic safety concerns and interventions (January 14, 2021)
December 2020
Crosstown Elementary School Active Travel Planning Program virtual walkabout (December 3, 2020)
Jamieson Elementary meeting with City staff and school community to discuss traffic safety concerns (December 17, 2021)
November 2020
Windermere Secondary School Active Travel Planning Program virtual walkabout (November 26, 2020)
Vancouver Technical Secondary signage adjustment along Penticton St. for additional pick-up and drop-off space
October 2020
Rapid Flashing Beacon installed near Carnarvon Elementary to improve visibility and pedestrian safety
Translink bus stop removal along Cornwall Street adjacent to Henry Hudson Elementary
Please note: Information included on this page is a non-exhaustive list of some key events or changes related to traffic management around VSB schools. Work undertaken is done in collaboration with VSB partner groups.