Britannia Secondary
Britannia Renewal
Overview
In 2018, project partners (the City of Vancouver, Vancouver Park Board, Vancouver School Board, Vancouver Public Library and Britannia Community Services Society) adopted a Master Plan for the renewal of the Britannia Community Services Centre, which includes Britannia Secondary school. A master plan is a long-term planning document that provides a conceptual layout to guide future growth and development of the area. It is important to note government funding has not been committed to the school changes identified in the master plan.
The Britannia renewal area is 18 acres, and the land is owned by the Vancouver School District and the City of Vancouver, with the School District owning over 70% of the total land area (approximately 12.6 acres).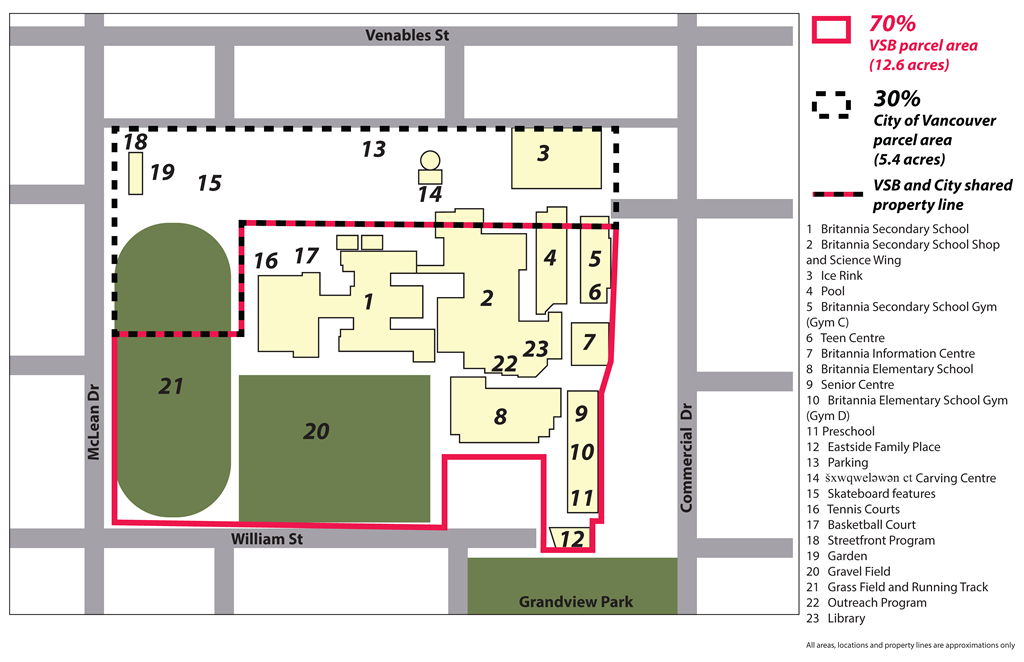 Next steps:

With the City of Vancouver taking the lead, project partners are now working on the rezoning phase of the Britannia Renewal. Rezoning is the process of changing how a property can be used or developed. Before a formal rezoning application for the renewed Britannia is submitted, a series of development site options will be explored to discuss priorities for dedicated and shared spaces, trade-offs, and to find creative solutions to meet the diverse needs of the community.
For more information about the Britannia Renewal process, please visit the project website