How three educators are marking Black History Month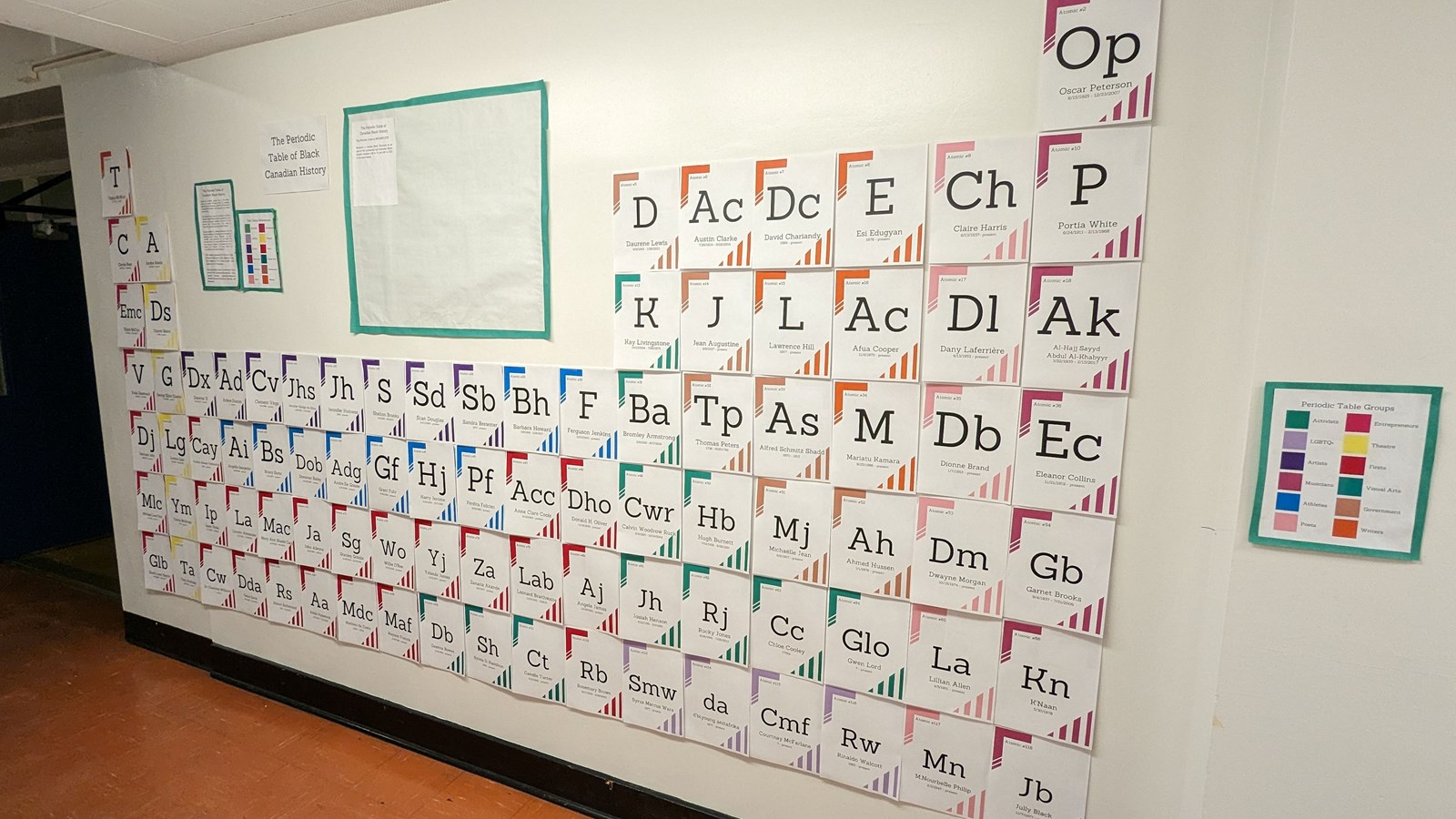 February is Black History Month, a month to confront historical truths about Black history and a chance to celebrate Black voices from both the past and the present. In the lead up to February, VSB educators have been hard at work, planning projects and lessons tied to Black history and Black excellence.
Together with students, Irving Lau, a math and science teacher from John Oliver created a Periodic table of Canadian Black History based on a resource from Parents for Diversity. According to Lau, the display highlights how the periodic table is a great visual model to organize elements. "In the Periodic Table of Canadian Black History, various people are grouped together according to their notable achievements in fields like athletics, music, art or politics." Educators from John Oliver have been using the periodic table in various ways with some math teachers using the table to practice calculating different categories on the table like the percentage of female figures or the percentage of athletes.
"There is an obvious gap in the last two rows," says Lau of the space taken up in the periodic table by the Lanthanide and the Actinide series of elements. "One of our questions to the science students would be, 'Which Black figures in STEM fields would you nominate to represent #58 to 71 and #90 to 103?'" Lau is hopeful other departments will be able to develop lessons anchored to this display.
In the lead up to Black Excellence Day on January 13, educator, Azin Sadr from Jamieson Elementary had her class create posters featuring 14 Black Canadian Changemakers including, Donovan Bailey, Chloe Cooley, Elijah McCoy and Viola Davis. The posters were then hung up around the school for other classes to view and learn from.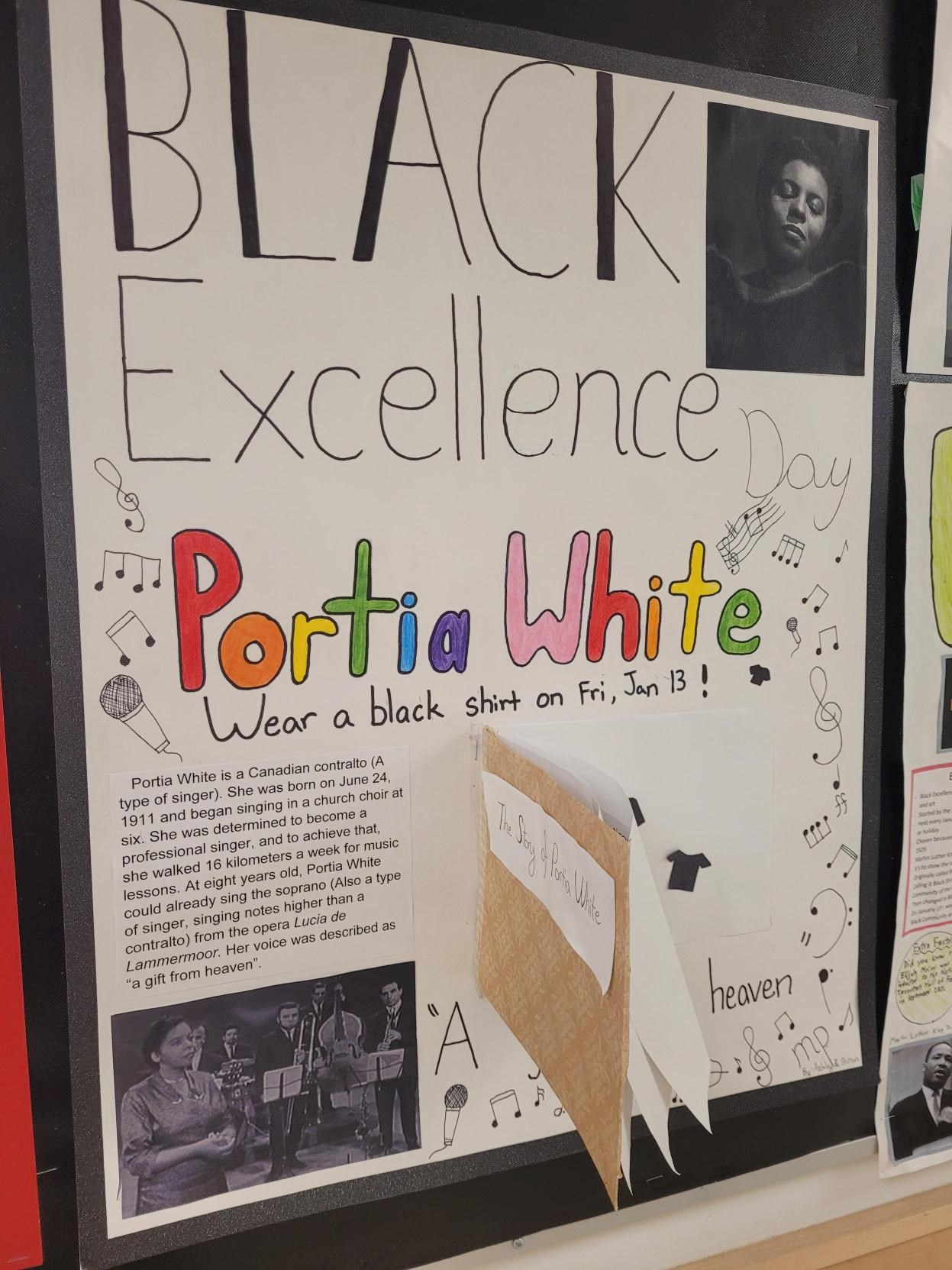 Tilia Prior from Tecumseh, was inspired to create Black History Month morning announcements after coming across a tweet by Vancouver writer, Wayde Compton (@WaydeCompton) in February 2022 where he announced that on each day of that month, he would tweet one fact about the history of people of African descent in Vancouver. With Compton's permission, Prior used his daily tweets, did some additional reading and research on each person, and wrote blurbs for student announcers to read aloud each morning. "It was a really enriching experience, and I was fascinated to learn about a part of Vancouver's history that I admittedly knew little about," she says.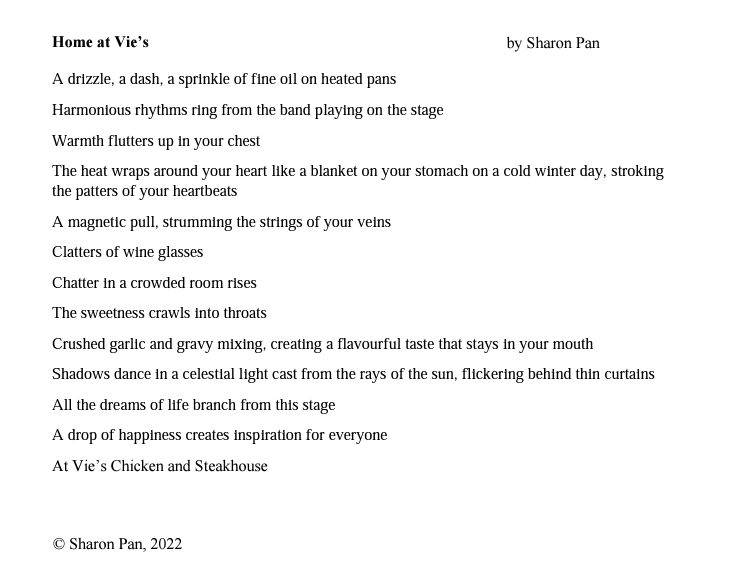 For her own classroom follow up, Prior became interested in Hogan's Alley and chose to focus on that part of Vancouver's Black History to create a project for her grade 7 class. Through the Vancouver Public Library, Prior entered her students into a City Poems Contest led by poet laureate Fiona Tinwei Lam. "I workshopped a place-based poetry writing activity with the class using the resources I found while researching Hogan's Alley, and had the students enter the contest as a way to hook them in and motivate them," says Prior. One of her students—Sharon Pan, was shortlisted and took third place in the Youth Category of the contest with her poem, "Home at Vie's." The poem reimagines the iconic, Vie's Chicken and Steakhouse, a popular restaurant once central to the Hogan's Alley neighbourhood.
By continuing to learn about Black history this month and all throughout the year, educators foster communities where students can see themselves and feel supported—ensuring students experience a deep sense of belonging.