Highlights: Finance Committee – May 18, 2023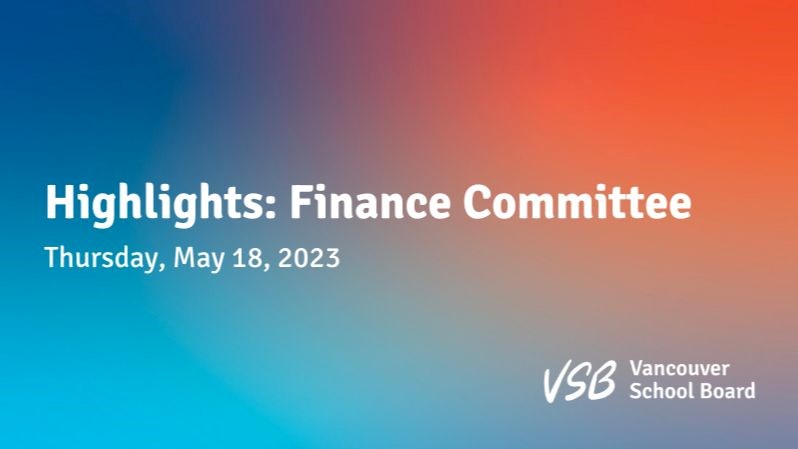 The Vancouver School Board held a Finance Committee meeting on the evening of Wednesday, May 17, 2023. For meeting details, view the agenda package or watch the live stream.
The meeting began with an update about the District's quarter three finances. Staff noted that finances in the third quarter did see a surplus of approximately $2.8 million. Year-to-date[PM1] , the District still has a deficit of approximately $8.2 million, down from the deficit of $10.6 million at the end of the second quarter. Staff anticipate the fourth quarter of the year will also end with a surplus of roughly $2 million, bringing the District's year-to-date deficit to around $6 million dollars — this down from the initially projected $10 million deficit.
Next, staff provided an update about the Food Framework Vision and the Feeding Futures Food Program. The fund promises funding from the provincial government over the next three years. VSB's allocation is $5.56 million. Funding is provided to maintain, expand, or create District school food programs.
The 2023-2024 Annual Budget used $1.80 million of the $5.56 million funding to offset food program costs in the operating fund. Staff will conduct an engagement through workshops with District stakeholder groups to gather input about the spending plan for the balance of $3.76 million.
Finally, the committee was given an overview of a report about school fee schedules for the 2023-2024 school year. Staff noted that all elementary and secondary school fee schedules align with standardized school fee schedules and comply with legislation as well as AP 505 which outlines student fees and charges. Trustee committee members voted in favour of recommending that the Board approve the publication of all school fee schedules for the 2023-2024 school year.
To keep up to date with all of the District's committee and Board meetings, see the calendar for meeting dates, agendas and livestream links. All recordings of past meetings are available on the District's YouTube channel.