Secondary semester schedule – 2021-2022 school year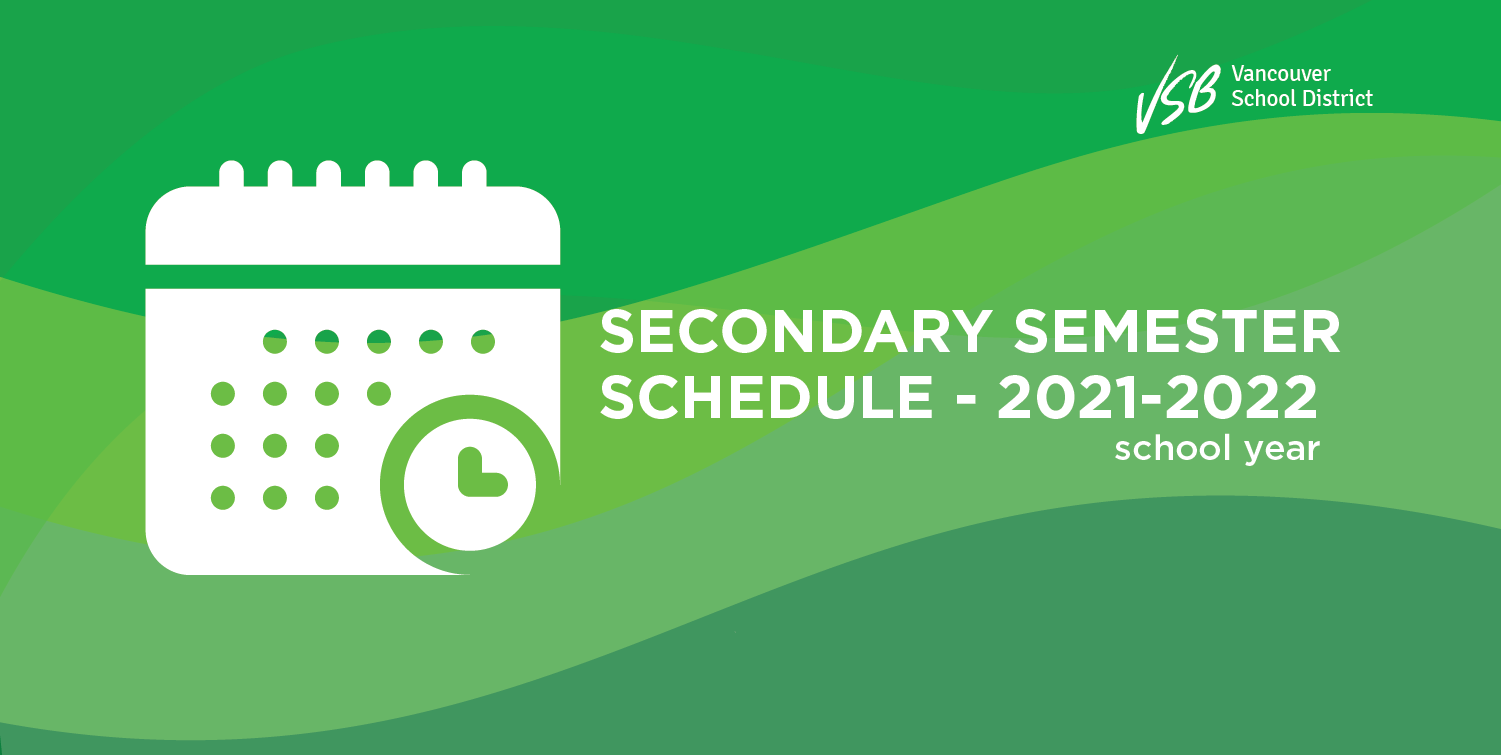 After input from students, families, school-based and District staff, the Vancouver School District will adopt a semester model for the 2021-2022 school year for secondary schools. Students will take four courses from September to January and another four courses from February to June.
Semester 1: September 8, 2021 - January 31, 2022
Semester 2: February 1 - June 29, 2022
This new schedule is designed to better meet the needs of students, including more teacher support for students and more flexibility with learning.
A standard timetable will be implemented across all secondary schools.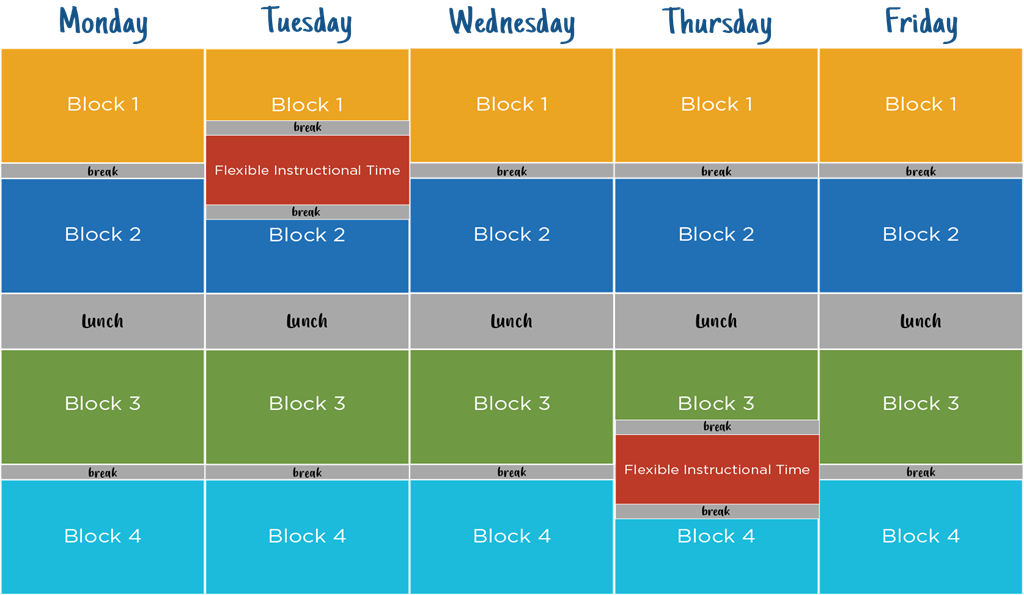 Health and safety continues to be a top priority and with the anticipated return to full-time in-person learning, the District will continue to work with families, teachers, staff, the Ministry of Education and health officials to ensure the schedule can and will be implemented safely.
Q&A
What time does school start and finish (bell schedule)?
For all secondary schools, school will begin at 8:40am and finish at 3:06pm.
Does the model meet required instructional hours for students?
This semester model meets the required number of instructional hours as outlined in the School Act.
What is flexible instructional time?
The timetable includes two periods of flexible instructional time per week: 50 minutes on Tuesdays and 50 minutes on Thursdays. This is instructional time designed to support personalized student learning choice. During this time, all students and teachers are onsite. Students may participate in weekly classes, collaborate with peers, see individual teachers, or pursue learning activities that may fall outside of their scheduled classes. Teachers and supports will be available for students.
Does each course have the same number of hours?
Yes, each of the eight courses throughout the year have the same amount of instructional time.
What about linear courses?
Due to the nature of some courses, they will follow a linear format (September – June). Examples include Band, Skills, International Baccalaureate, Advanced Placement and Yearbook.
I've heard of something called a semester turnaround day. What is that?
Semester turnaround day is scheduled for January 31, 2022. On this day students may attend school for a number of reasons including attending a session for course completion from the first semester or to discuss timetable adjustments for semester two.
How does the semester model impact reporting and assessment?
All secondary students will receive two formal report cards for each course – one at the mid-point, and one at the end of the course – regardless of the duration of the course. This includes courses running in a semester schedule. In addition to report cards, other informal communication about student learning throughout the year may include: an interim report, student-parent-teacher meetings, parent-teacher meetings, digital portfolio reviews, student reflections on their work, and telephone conversations.
Learn more about assessment and reporting.
For Grade 12 students, how does the semester model affect applying for post-secondary institutions?
The semester model will not negatively affect grade 12 applications to post-secondary. The semester system is common across the country, and admission guidelines for self-reporting often include instructions about what to do if you don't yet have an interim or final grade available for a given course. As long as students are registered in the prerequisites for their program of choice, and complete these courses by June 30, they will be able to self-report their current grades, and apply to post-secondary institutions.