Advocacy Committee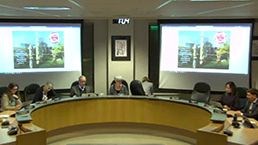 Terms of Reference
Purpose of the Advocacy Committee:
Education is a fundamental human right and a strong public education system is critical to preserving the ideals of a democratic society. The United Nations' Declaration of Human Rights states the following in Article 26, part 1: Everyone has the right to education.
The VSB believes in having a collective responsibility to uphold the mandate of public education and to ensure that it is strong and viable.
Advocacy can be defined as follows: "… the act of speaking in support of human concerns or needs. Where people have their own voice, advocacy means making sure they are heard. Where they have difficulty in speaking, it means providing help. Where they have no voice, it means speaking for them." (Joyce Preston, BC Child, Youth and Family Advocate).
Advocacy is multi-faceted and involves strong and sustained actions by education partners working together to ensure stability and innovation in our public education system. Collectively we are responsible for ensuring that all students benefit from having the best possible learning experience.
The VSB's Advocacy Committee will provide advice and guidance to the Board in:
Anticipating, identifying and addressing emerging educational needs and issues
Lobbying for and/or responding to (local, provincial and national) policy, legislation and/or funding issues
Ensuring public awareness of educational issues
Advocating on behalf of Vancouver students and school communities
Membership:
The Vice-Chair (or a delegate chosen by the Board Chair) will be responsible for chairing the meetings. Up to three additional trustees shall be appointed annually on the recommendation of the Chairperson of the Board. Any member of the Board may attend meetings and participate in the discussion of the Advocacy Committee.
Representatives from the following employee groups are invited to send one representative to each of the committee meetings:
Representatives from the following non-employee groups are invited to send one representative to each of the committee meetings:
A recommendation to the Board will be determined by the consensus of the Committee; members are asked to serve one school-year term.
Accountability
As per Policy BCF: Advisory Committees to the Board, an Advisory Committee can be "formed by the Board and at such times and for such specific purposes as the Board deems necessary". In the same policy, it states that Advisory Committees "report periodically to the Board". It would be the Board's decision to approve communications emerging from the Advocacy Committee.
Meetings
Meetings will be scheduled several times in each school year. The dates and times will be coordinated annually.

Topics for the agenda should be submitted to the chair. A district staff person will be assigned to the committee to serve as the secretariat.